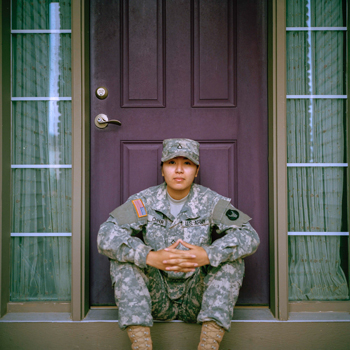 This week, our publisher, Bill Bowman, yields his space to Congressman Richard Hudson.
Friends,
As Fort Bragg's Congressman, it's an honor to represent so many active-duty soldiers, their families and our veterans. We owe a debt to everyone who has served in our nation's military, as well as their families, for the sacrifices they have made to protect our country. We also owe it to them to make sure they have all the available tools and resources they deserve.

Congress returned this week to pass the latest National Defense Authorization Act. This annual defense bill lays out all of the priorities to keep our military strong and support military families and veterans. This year, I was proud to work with my colleagues to include a record-setting number of provisions in the bill.

These provisions included a 10% increase in hazardous duty pay for those serving in eligible locations. This increase will support our warfighters who put their lives on the line and is in addition to an overall 11% pay raise for our troops since President Trump entered office.
For members of the Special Operations Community, I secured improvements to the Preservation of the Force and Family program established to create a holistic approach to address pressures on the force and increased stress on operator's families.

Military families make sacrifices for our country, too. That's why I secured language in the bill that will help improve future Impact Aid funding for schools in military communities. I also secured improvements to strengthen the Exceptional Family Member Program that supports special needs education for military families.

Finally, for veterans, I worked across the aisle to ensure the Department of Veterans Affairs burn pit registry is expanded to include veterans who served in Syria. Our community has one of the fastest growing veteran populations in the country and we owe it to these heroes to take care of them both during and after they have served our country. After years of fighting in the Middle East, many of our servicemembers were exposed to toxic chemicals through the use of burn pits which have been linked to serious health conditions, including cancer.

Together, these provisions in the NDAA will further support our troops, their families and our veterans.

Also, as part of my commitment to our military, earlier this year I helped secure a President Unit Citation for the 30th Infantry Division for its service in World War II.

Made up in part of National Guard soldiers from North Carolina and nicknamed the "Old Hickory Division" after President Andrew Jackson, the division landed on the beaches of Normandy on D-Day and became a vital part of the Allied effort to defeat Nazi Germany.

Among their accomplishments, the division of 13,000 soldiers held off an advance of 80,000 German troops at Mortain, France in August 1944. Historical records indicate that general, and later president, Dwight D. Eisenhower intended for the 30th Infantry Division to be recognized with the Presidential Unit Citation. However, the designation went overlooked for nearly 70 years.

Former Congressman Larry Kissell fought for the 30th Infantry Division's recognition and when I came into office, he asked me to carry on the fight. I worked for more than seven years throughout the Obama and Trump administrations to have the 30th recognized. Finally, nearly 75 years after their heroic stand at Mortain, in March President Donald Trump directed the U.S. Army to award the Presidential Unit Citation and ensure these veterans get the credit they deserve.
This week, the citation was presented to the 30th Infantry Division at a ceremony at the North Carolina National Guard. This ceremony was a culmination of years of hard work and I have been proud to work with so many veterans, the North Carolina National Guard and President Trump to make it happen.

You can rest assured that as long as I am your Congressman, I will continue to do everything I can to support our troops, their families and our veterans.

Richard Hudson
Member of Congress