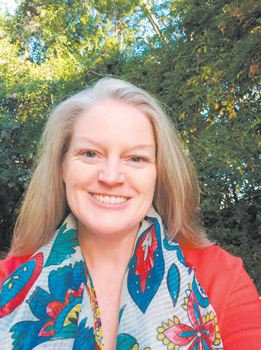 This week, our publisher, Bill Bowman, yields his space to April Olsen, the new editor of Up & Coming Weekly.
It is a good week to be taking over the editor's seat because this issue of UCW has great information about women, voting, protecting your finances and sage advice on dealing with stress from a dog named Champ.

This week while learning procedures around the UCW office, I also found out that Annie Alexander, a North Carolina native, was the first licensed woman doctor in the American South. On page 6, you can read about how she was tending patients and serving in the Army before she even had the right to vote.

I had never heard of Annie, but it seems fitting that I would read about her this month, as it is the centennial celebration of the U.S. Constitution's 19th Amendment guaranteeing women the right to vote. On August 18, 1920, the amendment was ratified. On August 26, 1920, it was certified by the U.S. Secretary of State, allowing eight million women across the U.S. to cast their votes that November.

I also felt a connection to Annie's story because I, too, served in the Army. Although not a doctor, I traveled to many places around our great nation and ended up at Fort Bragg, right here in Fayetteville, where I retired a few years ago.
Serving in uniform and traveling to countries where citizens have so few rights helped me cherish my own American privilege of voting. It is something I take a lot of pride in, whether I am standing at the polling place or mailing in an absentee ballot.

You can find out information about voting in our cover story on page 13, written by Jeff Thompson. Some of you are active in politics, and some may be registering to vote this year for the first time. Whichever is your situation, I applaud your efforts. Research the issues and the candidates. Speak out for or against. Make your voice heard. Having a say in who our leaders are is one of the greatest things about America.

UCW is committed to helping you research local candidates when we receive submissions from them. On page 8, you can read what issues Dianne Wheatley is passionate about: education, health care, public safety and the economy. Wheatley is running for North Carolina House of Representatives in District 43.

Most of us are also concerned about the economy, especially since COVID-19 has shut down so many businesses and put so many people out of work. A health scare during these times can be especially stressful on a family's finances. On page 12, we offer a quick review of four key areas to consider if you are in such a situation.

No matter what your circumstances look like, it is important to remember that taking care of yourself and your tribe is a necessity, not an afterthought. Licensed Psychologist Rebecca Crain offers her perspective on page 15.

If none of these articles help you face whatever challenge you are encountering, please flip on over to page 17. On occasion, dealing with a problem may require you to step back and catch your breath. Like Champ, Dan Debruler's canine companion, you may need to seek refuge in your own quiet space.

Catching our breath is what we have been doing at UCW. Now is a perfect time to state what we want to accomplish in the community and review our vision.

UCW will promote good things happening and work to expose negative things for the good of the community. As social distancing allows, we will continue to highlight plays, concerts, sports, education, celebrations and a patriotic sense of serving a greater purpose.

That sense of purpose reflects our vision for the future of UCW — to share information on the many opportunities in Fayetteville, Fort Bragg and Cumberland County while being a champion of small business, highlighting the people making things happen, providing a platform for the public exchange of ideas and sharing an unapologetic pride for our community.

Our brand of community journalism carries a responsibility to inform, educate and entertain while being fair and honest. As the UCW editor, I will strive to meet this responsibility by including opposing voices and ideas to highlight the diversity we are blessed with in Fayetteville. I encourage our readers to submit your thoughts and ideas.

With so many options for print and online information, we appreciate that you spend some of your time reading Up & Coming Weekly.