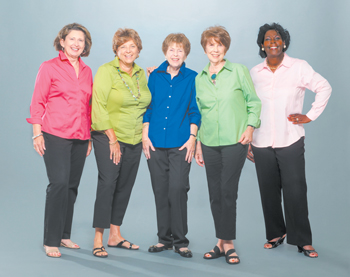 In August seven years ago, five local women — all dear friends — and I were knee-deep in trying to put off an original stage performance, and only one of us had any idea what we were doing.

Bo Thorp, a founder of Cape Fear Regional Theatre and its longtime Creative Director, knows more than a thing or two about theater, but the rest of us were blanks slates, veterans of different worlds altogether. Bo had recruited us to tell our life stories onstage, which entailed writing them, trying to memorize them —although we had cheat sheets — learning how to move around on a stage in the proper order with music and overcoming stage jitters. Our little band included corporate CEO Terri Union; former teacher, Fayetteville City Council member, and Cumberland County Commissioner Rollin Shaw; real estate mogul Suzanne Pennink; Army brat turned judge and former North Carolina Supreme Court Justice Patricia Timmons-Goodson; and me.

We bonded, named ourselves "The Dames You Thought You Knew," and much to our surprise, performed to four sold-out audiences. We had been expecting family and friends. Human beings are innately curious about each other, though, and it was fascinating to learn about the lives of people we thought we knew well, but really did not. Some of it was funny — teenaged disasters and first loves. Some of it was painful — divorces and lost elections. All of it was very real. Years later, Bo conceived of and put together another performance, "LumBees: Women of the Dark Water," featuring women of Lumbee heritage and put it on at CRFT. It, too, was an instant hit.

Seven years creates lots of change, and the Dames have been through our share. Three of us now live away from Fayetteville, mostly for family reasons. Two of us have been widowed. More grandchildren have arrived, and all but two of us are officially retired.

Those two Dames are still going at it in the working-world arena. Suzanne Pennink continues to work successfully in local real estate and is a downtown Fayetteville booster extraordinaire. She and her husband live downtown and open their city center home for various charitable causes. Pat Timmons-Goodson, the youngest of the Dames, whom the rest of us called "our baby," continues her life's work for justice in all areas of American life, having served as a Cumberland County prosecutor, a judge and a Justice on the North Carolina Supreme Court. She served as Vice-Chair of the United States Commission on Civil Rights as an extension of her judicial work. She is the backbone of her large, extended family as well.

This year, Pat has volunteered for a new challenge as well. She is running for Congress and would be the first Fayetteville resident to represent us since Charlie Rose left office more than 20 years ago. She has chosen to take this on during one of the most toxic political climates in American history. The Dames are behind her all the way.

COVID-19 has given all of us plenty of time to think and reflect, and prominent among my thoughts these days are the value of deep and long-running friendships and how they shape and enrich our lives. Another is how time alters us all, sometimes so slowly we are not even aware of the changes and sometimes with knocks that take our breaths away. The Dames have evolved since this time in 2013, but each of us continues to play roles in our communities, whatever they may be at this point. Keeping on keeping on is one of life's enduring lessons as well.
Pictured (left-right): Margaret Dickson, Suzanne Pennink, Terri Union, Rollin Shaw, Patricia Timmons-Goodson.