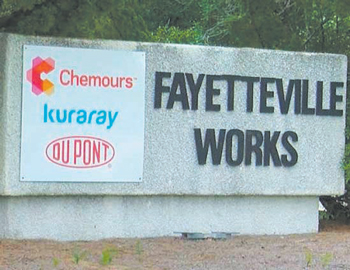 Choices have consequences! As a dad, grandpa and great-grandpa, I have always taught my children and grandchildren that they are responsible for their actions. Working with children in the Boys & Girls Clubs in Cumberland County, and as the Executive Director for the past 37 years, I have emphasized that same basic principle with them — everyone should be accountable for their choices.

Chemours/Dupont has made choices for years. Those choices were made in its best financial interests, not those of our community's. Now the consequence of their choices has come to light — GenX contaminated water throughout our community. Drinking water, showers, animals and gardens can be affected. The solution that was accepted was to bring water lines to two Gray's Creek elementary schools. Someone has to pay for that! Who? The Cumberland County Schools will chip in. PWC has agreed to fund part of it. Where do those entities get that money? From you and I! That's where — from the taxpayer.

Did you benefit from the financial choices Chemours/Dupont made? No. Gray's Creek homeowners have had to readjust their lives with bottled water for drinking. Some have accepted filtration systems for drinking water in their homes. Others are concerned about property values declining. Many are experiencing severe health issues. Who knows how pets and livestock are affected? What is the effect of this ecological disaster on our crops? New housing developers have to increase costs by paying for running water lines, they, in turn, pass those costs along to the new homeowners. Why would any business develop this area? Where is Chemours/Dupont's accountability in all this? Why aren't they paying? Why do we, the taxpayers, and the Gray's Creek community have to feel the brunt of choices someone else made?

You may think you are a small fish in a big pond, but together we can make a difference. We can hold people and industries accountable for their choices. A strong Cumberland County Board of Commissioners should hold Chemours/Dupont accountable for its choices. These choices don't just affect Gray's Creek — taxes come from across our county. Everyone is paying for Chemours/Dupont's choices. Help me help us all hold them accountable.

To discuss this further, please contact me via email at boysgirlsrobeson@carolina.net . I am Ron Ross, and I am running for the Cumberland County Board of Commissioner District 2 seat to make your voice heard and your tax-dollar valued.