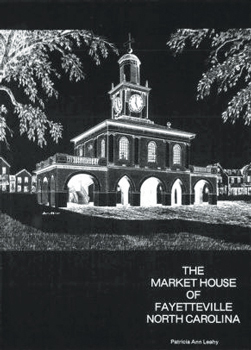 The debate raging over the future of the Market House in our great city of Fayetteville is not diminishing anytime soon. It is and has always been a historic landmark of controversy. However, the iniquitous attention it is receiving now has been conjured up from the revival of decades-old misinformation that the building was a designated slave market. This is not true.

Even after countless documents of North Carolina historical data on the Market House confirmed that enslaved negros during that period in history were considered property and sold or auctioned as part of private estates. Ignoring these facts seems to be an inconvenient truth as well as an excuse and flashpoint for rioters, hostile protesters and anarchists. Personal sentiments and opinions do not alter the facts.

In this edition, Margaret Dickson, a lifelong resident of Fayetteville and, successful businesswoman, former Democratic senator and state representative, shares her thoughts, concerns and heartfelt sentiments about this topic in her article "What about the Market House?" on page 5. Not only does she make a compelling argument for repurposing this historic building but " … to memorialize the people who were subjected to Fayetteville's role in our nation's original sin."

I was at the dedication ceremony she mentioned in 1989 when Fayetteville unveiled the City Council's plaque recognizing and honoring the human beings sold there. W.T. Brown, a local educator, statesmen and respected community leader, gave the most elegant and compelling speech. It left the entire audience united, resolved and committed to live and work together for the betterment of the Fayetteville community and for the prosperity of future generations.

Facts are facts, and history is just that — history. This brings me to the subject of a wonderful and factual resource document brought to my attention recently by a longtime Fayetteville resident, friend, historian, show promoter, genealogist, realtor, pewterer and pottery expert, Mr. Quincey Scarborough. Given the negative attention the Market House was receiving, Quincey brought by my office this book titled "The Market House of Fayetteville, North Carolina." It was written by Patricia Ann Leahy, in 1976, when she was teaching at Fayetteville State University. This small but insightful book was written basically to dispel the notion the Market House was a slave market and to put it and Fayetteville into a relevant historical perspective. It is excellent.

Leahy tells Fayetteville's story from the arrival and struggles of the Highland Scots in 1732 to the establishment of Campbellton and Cross Creek to the merging of both settlements in 1783 into the town of Fayetteville. Utilizing meticulous research and an impressive bibliography, maps, schematics, historic artwork and photos, original documents/letters and newspaper articles, ads and letters to the editor, Leahy made two points crystal clear in only 32 pages. First, the Market House was a legitimate historic landmark that did sell slaves but was never a slave market. Second, the controversy over the Market House and the arguments generating from it today are exactly the same as those that existed in 1976 when her book was first published. Read it for yourself. Barnes & Nobles has it available now as part of the NOOK selection for only $5. BN ID. 2940158564031. Author: Patricia Ann Leahy, Caron Lazar

On a personal note: Until Mr. Scarborough made me aware of Leahy's book, I had no idea about her credentials. I met and became friends with Pat Leahy in the early '90s through her civic contributions, dedication and involvement with the Fayetteville Museum of Art and all aspects of the Fayetteville cultural community. She had a wonderful and joyful personality and, for years, hosted some of the most fun and outrageous Halloween parties in her home. I want to thank Mr. Scarborough for his support and for bringing this to my attention.

Thank you for reading Up & Coming Weekly and for your support of our local newspaper. I appreciate the calls, emails and text messages of encouragement we have received during these trying times. However, I assure you everyone here at UCW is dedicated and committed to supporting the Fayetteville, Fort. Bragg and Cumberland County communities and to continuing to accentuate our unique amenities and quality of life.