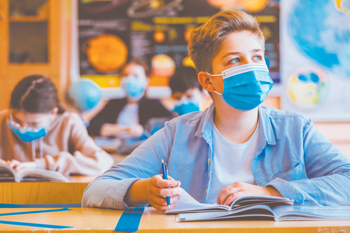 They did.
The COVID-19 pandemic continues to affect every aspect of our daily lives—who we see, where we go, what we do or do not wear, what activities feel safe to undertake.
For North Carolina families with school-age children, the upheaval and uncertainly is magnified many times over by concerns over education.
Initial virtual education efforts were well-intended but largely a mess, because schools were unprepared for the sudden shift.
Educators and families have mixed feelings about the current virtual and occasional on-site learning efforts as COVID continues, but the consensus appears to be that the fall is more organized and will be more effective than the spring.
Truth be told, though, our schools were in trouble long before COVID struck.
Education Week, a news and analysis organization covering K-12 education in the United States earlier this month ranked North Carolina 33rd out of 50 states, with a solid "C" for the quality of our educational efforts. This is despite the fact that our state Constitution guarantees that every child have access to a "quality" education.
What is more, Ed Week ranks North Carolina 44 of the 50 states in school funding, which translates into an embarrassing "F" for our funding efforts.
It has not always been this way, and it does not have to be now. North Carolina has traditionally been considered a leader in public education, particularly in the South, but over the last decade, we have squandered that reputation.
Since 2011, the General Assembly has systematically cut public education funding, shifted public education dollars to private schools, including private religious ones, and put a greater funding burden on counties. This shift has resulted in inequitable schools, with high-wealth counties like Wake and Mecklenburg spending far more per pupil, and low-wealth counties like Cumberland and most rural counties spending far less.
This funding inequity was the basis of the long-running Leandro lawsuit which went on for the better part of three decades and in which Cumberland County was a plaintiff. Courts finally ruled that, yes, school funding in North Carolina is unfair, but remedies remain elusive.
Layer COVID and virtual school on top of an already problematic public education system, and we have what one of my former neighbors, an educator herself, would call a "pluperfect mess."
Even if you do not have school-age children, you likely know that schools are woefully short of nurses, counselors and other support personnel, that "frills" like art, music, and physical education are long gone from many schools. You have likely heard that we now expect our teachers to buy their own classroom supplies. The General Assembly actually considered a $500 stipend for this purpose.
The decline of public education over the last decade, crowned by the plague that is COVID, is an exacting lesson in "elections have consequences." Our General Assembly has betrayed the people of North Carolina with its mean-spirited and stingy approach to education. Its short-sighted and tight-fisted decisions are hurting our state's more than 1.5-million public school students and damaging our state's economic potential well into the future.
As you ponder your votes for members of the North Carolina General Assembly this fall, look carefully at who and which political party moved us down to C, D, and F territory in public education and who and which party wants to lift us back up.
Vote accordingly.