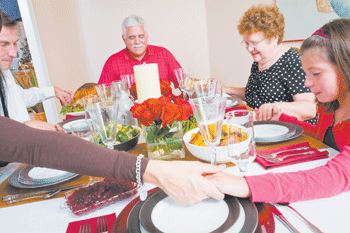 We have liftoff. With this week's celebration we launch into a season which leaves no one untouched. We'll soon be orbiting a planet inhabited by events affecting people of all walks of life. The calendars of families, individuals, churches, office places and retailers online and local will soon be dominated by deadlines and an unmatched annual intensity.
This is an understandably joyous time for many. The odd mix of nostalgia and an anticipation of new and better things to come bubbles over amid the lights, the festive decorations and friendly gatherings working in harmony to usher in a sense of excitement. Stores and online shopping carts are filled with people sending black ink to the bottom lines of ledger for businesses of every kind, and the gifts we've secretly collected for months begin to find their way inside boxes and new hiding places behind colorful wrapping paper.
Others, though, enter the winter holiday season girded with whatever emotional armor is necessary to ward off the conflict between how familiar everything feels and a knowledge it will never be the same. Though the seats may be full, there's an empty place where a well-loved someone once sat. For some it's a spouse, parent or child. For others a sibling or a best friend. After weeks, months or even years of learning new ways to navigate old routines they find themselves in a season filled with activity and the expectation of a smile that's become hard to muster.
On the brink of the holiday season wrapping up a year that's brought more than it's share of strangeness, the promise of the familiar seems particularly inviting this time around. And within days of the first turkey being properly thawed for its date with a Thanksgiving oven, we arrive to find state officials urging smaller gatherings as Triple-A reports record numbers of people planning to hit the road in search of congregation.
The typical feast, with its photogenic place settings, kids gathered around a table of their own, and a big city parade on the television in the other room may be more an underground celebration this year. A celebration we hold, but don't talk about for fear of being chastised by those who would accuse us of being irresponsible.
None of this, though, is reason for despair. None of the weird we bundle under the notion of "2020," not the feelings of loss or loneliness, and certainly not any state or local mandates to keep it small. None of it should outweigh our love for one another or our hopeful outlook this year. The thanks we give on Thanksgiving can still be given. The joy we celebrate and love we share at Christmas can still be celebrated and shared. The One we offer thanks to is still there, and always will be. Let's walk into this season together — whether we're across the table or across the country — and realize what a gift we are to one another.