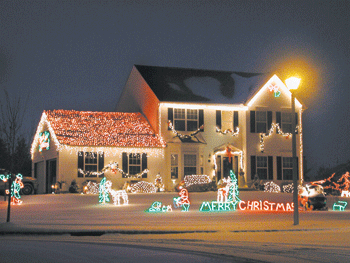 Among my great seasonal pleasures is unpacking the Dicksons' holiday decorations, all long familiar and some deeply dear.
I treasure some like the clothespin reindeer made in Sunday school classes that seem now to have occurred in a different lifetime. The hand towel angel that has topped our tree for decades. The years and years of annual White House ornaments spanning both Democratic and Republican presidencies. The sparkling objects I love just because they are beautiful.
Over my lifetime, holiday decorations have become more elaborate and, perhaps because of that, they go up earlier. In my neighborhood, there were several pre-Thanksgiving holiday door decorations as well as trees twinkling in some windows. Since Thanksgiving, virtually every home has at least begun decorating, including ours. There always seems to be one more ornament to hang and one more angel to put in a window. Increasingly, not just interiors but exteriors are bedecked.
Residents of a house down the street have outlined the entire frame of their home with white lights, giving off what seems to me not the peace of the season but something akin to light pollution. Others have inflatable Santas and reindeer in their yards, even on their rooftops.
All of this seasonal decorating takes a great of thought, time, and, I suspect, money. We have to conceive of it, locate it, buy it, and install it—or pay someone else to do all those tasks. Then my well-lit neighbors and others face hefty electricity bills after the lighting extravaganza is over.
None of this is new in 2020. We have been getting more and more decorated for decades. What does seem different this season is our attitude.
The whole decorating operation seems almost frantic, fraught with a collective yearning for what feels "normal" at this special time of year. Maybe if we just put up one more ornament or one more wreath, the horrors of 2020 will magically be behind us. It is an understandable human reaction to stress—to divert attention away from the problem and onto something that gives us pleasure.
There is no getting around the reality that COVID is everywhere among us. COVID is now the leading cause of death in the United States, taking more people than cancer, heart attacks and strokes. The daily death toll is approximately one 9/11 attack every single day, and infectious disease experts expect that dreadful number to continue rising as many Americans tire of COVID restrictions and others intentionally and inexplicably thumb their noses at them without regard to others, including their own loved ones. We should all be shamed by the exhausted doctors and nurses weeping publicly for government masking mandates, because they simply cannot work any harder or longer.
For months after COVID landed on American soil, I knew no one who had been infected, and while I tried to adhere to expert advice, I sometimes felt a little silly in my mask. Today, the first friend I know who caught COVID in April, a healthy 42-year-old woman, says she finally breathes well and feels herself after all these months. Others within my circle of friends and acquaintances have been infected and become ill, some with more severe symptoms than others and several who were hospitalized, have recovered. Two have died, leaving families both stunned and devastated.
The Dicksons are decorating, though not with a light show, and looking forward to a peaceful holiday season. We will not see many others outside our family circle, and we will miss them and the warm occasions of past holidays. We also know that this is the right call for 2020.
Not to do so makes us wrong—possibly dead wrong.