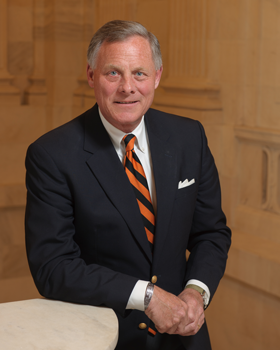 I emailed the office of Senator Richard Burr after he voted in favor of impeaching former President Trump. This came after the NC GOP Central Committee unanimously voted to censure Senator Burr (https://www.nc.gop/central_02_15).
Not surprisingly, our local newspaper did not find this to be newsworthy. His belated reply follows:
Dear Mr. Goldstein:
Thank you for contacting me regarding my vote to convict former President Trump on the article of impeachment presented against him. I appreciate hearing from you.
January 6, 2021 was a grim day in our nation's history. The attack on the U.S. Capitol was an attempt to undermine our democratic institutions and overrule the will of the American people through violence, intimidation, and force.
Seven lives were tragically lost as a result of that day. Law enforcement officers, outnumbered and overwhelmed, sustained debilitating injuries as they bravely defended Congress against an angry mob. We now know that lawmakers and congressional staff came dangerously close to crossing paths with the rioters searching for them and wishing them harm.
When this process started, I believed that it was unconstitutional to impeach a president who was no longer in office. I still believe that to be the case. However, the Senate is an institution based on precedent, and given that the majority in the Senate voted to proceed with the trial, the question of constitutionality for a former president is now established precedent. As an impartial juror, my role was to determine whether House managers had sufficiently made the case for the article of impeachment against President Trump.
I listened to the arguments presented by both sides and considered the facts. The facts are clear.
The President promoted unfounded conspiracy theories to cast doubt on the integrity of a free and fair election because he did not like the results. As Congress met to certify the election results, the President directed his supporters to go to the Capitol to disrupt the lawful proceedings required by the Constitution. When the crowd became violent, the President used his office to first inflame the situation instead of immediately calling for an end to the assault.
As I said on January 6, the President bears responsibility for these tragic events. The evidence is compelling that President Trump is guilty of inciting an insurrection against a coequal branch of government and that the charge rises to the level of "high crimes and misdemeanors." Therefore, I voted to convict.
I did not make this decision lightly, but I believe it was necessary. By what he did and by what he did not do, President Trump violated his oath of office to preserve, protect, and defend the Constitution of the United States.
My hope is that with impeachment behind us America can begin to move forward and focus on the critical issues facing our country today.
Again, thank you for contacting me. Should you have additional questions or comments, please do not hesitate to let me know or visit my website at http://burr.senate.gov.
Sincerely,
Richard Burr
United States Senator

Pay particular attention to what Senator Burr (or one of his staffers) wrote:
"However, the Senate is an institution based on precedent, and given that the majority in the Senate voted to proceed with the trial, the question of constitutionality for a former president is now established precedent."
In other words, Senator Burr, you hold that a "precedent' set by the Senate is an amendment to the U.S. Constitution, which you were obliged to support per Article VI. The U.S. Constitution provides for the impeachment of the president, but not a former president no longer in office. That is sophistry as well as impeachable conduct.
This "impeachment" was also a bill of attainder. That is an impeachable offense under Article I, Section 9. For that matter, every representative and senator that voted to impeach the former president is also a participant in this unconstitutional act.
Now, I'm not a constitutional lawyer, but it does not take legal genius to read what is in the U.S. Constitution. The language is plain. But just to be sure, I asked an old friend of mine from college, who is a lawyer, for his opinion on Senator Burr's reply.
"His response could have come directly from CNN. I'm not aware of this precedent notion to create law by non judicial procedural fiat. The blather justifying his vote seems no more valid than sports banter. Precedent is established by a court which is subject to evaluation by other courts up the jurisdiction train. This senate choice seems misuse of process or contrived authority to increase its power, just what the President was accused of."
It is now obvious that Senator Burr does not represent all of the North Carolina voters, both Democrat and Republican, that voted to reelect President Trump.
The vote of censure was a vote of no confidence. Senator Burr has demonstrated that he will place his own agendas, whatever they may be, over the will of his constituents. For this reason he should resign immediately.
— Leon A Goldstein, Fayetteville