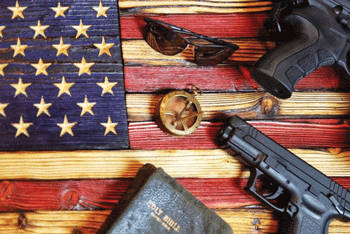 It is said, watch what politicians do and not what they say. Our country is sideways. We are surrounded by cowards, feel-good laws, guilt marketing and a sense of perverted righteousness. Many representatives get elected, take office, swear to uphold the Constitution. Within minutes, many of them do everything they can to circumvent and destroy the very foundation they swore to uphold.
In the last few weeks, we have had two highly reported shootings. The president did not miss an opportunity to use these tragic events to push his agendas. The president touted the Atlanta shooting at three massage parlors as "An assault on the AAPI (Asian American and Pacific Islanders) community in Georgia." The shooter has not been charged with a hate crime. Playing the race/hate card, the propaganda machines spread fear to Asians. They failed to mention the victims included six Asians and two whites murdered and a Hispanic man who was injured. The motive does not look like it was racial; the accused said he had a sex addiction.
Six days later, in Boulder, Colorado, a man entered a grocery store parking lot, killed 10 people, and wounded one. The president and media led people to believe that the shooter used the evil AR-15 rifle. However, he had two pistols — a Ruger AR-556 and a 9mm pistol (believed to not have been used). Both were legally purchased.
In response to the Atlanta shooting, the president quickly asked Congress to send him the "COVID-19 Hate Crimes Act" to sign, which had nothing to do with the shootings. The very fact that our government leaders think that one group, race, sex, or even one person is better than another is a tribute to their lack of moral character to enforce and uphold our laws.
In response to the Boulder shooting, the president used the moment to reiterate his campaign promise to go after "assault weapons," saying, "As president, I'm going to use all the resources at my disposal to keep people safe." He went on to say, "I got that done when I was a senator. It passed. It was a law for the longest time, and it brought down these mass killings." He did not mention that studies show the ban did not have a significant effect on firearm homicides. According to the CDC, there is one-half to three million incidents annually where people use firearms for protection.
A few weeks ago, President Biden fell three times going up the steps to board Air Force One. In America, each year, 12,000 Americans die due to stairway accidents. Each year, there are less than 400 people killed by rifles, including hunting, shotgun, and AR-15 style rifles combined! Currently, there is an estimated 10 to 30 million AR-15 style rifles in the U.S.
In 2013, during an interview with Parents magazine, then Vice President Gunner Biden said, "Get a double-barreled shotgun ... Jill, if there's ever a problem, just walk out on the balcony here, walk out and put that double-barrel shotgun and fire two blasts outside the house. I promise you whoever is coming in is not going to. You don't need an AR-15. It's harder to aim, it's harder to use, and in fact, you don't need 30 rounds to protect yourself. Buy a shotgun. Buy a shotgun."
Umm, as the VP at the time, what he was saying is, if all of the Secret Service and their weaponry fail, just walk outside and shot two shotgun shells in the air. No responsible gun owner would ever tell anyone to shoot in the air.
Let me ask you if you are unlike the Bidens and do not have Secret Service protection, and you hear a noise in the middle of the night, and you grab your Gunner Joe double-barreled shotgun and walk into your living room and discover three people breaking into your house? What if you squeeze a blast off and miss? How does that math work for you?
Why don't our current laws work? There is no deterrent. Death-sentenced prisoners often spend more than one to two decades in jail before being exonerated or executed. That is decades for families to have to deal with a murderer and a criminal justice system. They become victims by a system that never gives them peace or justice.
We need representatives that are willing to uphold our Constitution before party loyalties and politics. Our law enforcement agencies have to go after real criminals. Our prosecutors have to go after righteous cases. Our judges have to be fair and give out just punishments. Our judicial system must provide sentences that are speedy and respectable.
Why is the government obsessed with assault rifles when you are 30 times more likely to be killed by a flight of stairs than an AR-15? Is it optics, lobbyists, ignorance, federal agency job security, or something else?
Why are they gunning for your guns? Probably the same reason that England wished they had gun confiscation back around 1770. The same reason Hitler confiscated guns in Germany. As recently as 1997, England banned firearms and is now known as the "most violent country in Europe." London has a higher crime index rate than New York City, and London has banned people from carrying knives. This is about control so the government can have complete control over your life and give up your freedoms.
Gun control bills on both sides of the political spectrum have failed in the past. Many times, due to the filibuster rule. If the statistics show that assault weapons are not the problem, that gun ownership saves more lives than not, then it is reasonable to ask why are they using mass shooting events as a tipping point to gun down the filibuster? Without the filibuster, a voting majority by one person could change the Constitution or ram a cockamamie cause down citizens' throats without fear of an uprising?
The Constitution is framed on checks and balances. The Second Amendment ensures we have a First Amendment, and the First Amendment ensures we have Second Amendment and so forth.
No matter what Gunner Biden's intentions are, the first wave of change in the name of gun safety or gun control initiatives can only lead to gun registration and gun confiscation, turning millions of law-abiding citizens into criminals.
If you, your representatives, and leaders cared about your safety, they would encourage Americans to exercise their God-given right to protect themselves and the Second Amendment.
It took 58 minutes for the Boulder shooting to happen from start and finish. For some, sadly, that was a lifetime.
If you find yourself in a life-or-death situation, you will have the rest of your life to figure out if you should have the right to protect yourself with whatever weapon you choose, or if you are willing to bet your life and wait for the police to arrive?