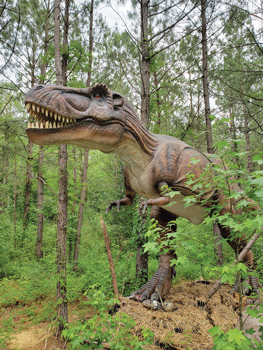 It's time to shed the gloom, the doom and the masks! Fayetteville is emerging from the restraints and restrictions of COVID and coming alive again with the traditional summer sights and sounds of our diverse All America City. Truly international in scope, Cumberland County is home to people and organizations dedicated to supporting and nurturing the local traditions that define and enhance our unique community. Spring and summer are when Fayetteville comes alive with activities and events to entertain and excite the entire family. There is something for everyone.
The Dogwood Festival is one familiar venue to bring the family outdoors to enjoy local music, food and artists. It's finally back with a Mini Festival scheduled for June 11-12 at Festival Park. Smaller in scale this year, but just the beginning of returning our community back into the vibrant entertainment hub we've come to
appreciate.
What would summer be without music? Our local residents don't have to answer that because there are multiple concert series already in full swing in our area. The Rock'n On The River series returns to Deep Creek on June 16 with Reflections II and Trial By Fire — two bands that are sure to have you singing along, dancing and enjoying time with friends.
The new music venue, the Pavilion at Gates Four Golf & Country Club, hosts Beatlemania on June 26. With concerts lined up through September, there's sure to be something to please fans of all music genres.
The newest and most exciting outdoor family entertainment attraction developing in eastern North Carolina is right here in Fayetteville east of the river on Sapona Road — Sweet Valley Ranch.
If you haven't heard about it by now, you will in the near future. Sweet Valley Ranch opened last year to over 17 thousand visitors who came to view and enjoy their drive-thru Christmas light display, the Festival of Lights. Beginning today, June 9, Sweet Valley Ranch is opening Dinosaur World.
Dinosaur World is the latest attraction on the 300 acre working farm that takes visitors on an adventure through a nature trail inhabited by the prehistoric creatures. Visitors of all ages are in for a unique experience.
It is only the beginning of what we predict will become Fayetteville and Cumberland County's #1 family fun, educational and entertainment destination. Up & Coming Weekly will be showcasing this multi-dimensional enterprise and it's entrepreneurial owners, Fred and Anita Surgeon, and the major economic impact it will have on our community.
Stay tuned and be careful: the Dinosaurs are coming!
Thank you for reading Up & Coming Weekly.