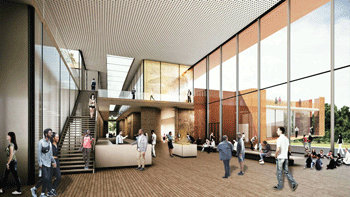 It was a beautiful warm summer day at Arsenal Park last week when residents, state dignitaries and local officials gathered to break ground for the North Carolina Civil War & Reconstruction History Center's History Village.
The ceremony marked the beginning of the next stage of development of the statewide Civil War History Center. The ceremony was an impressive "who's who" of those who genuinely care about North Carolina's history, heritage and Fayetteville's future. These are the people who understand the importance of embracing history as it pertains to human rights and the freedoms we enjoy today as Americans, but, unfortunately, many times, we take for granted.
The keynote speaker was Clemson University history professor Orville Vernon Burton. Burton is an award-winning author of the book "The Age of Lincoln."
In addition, former North Carolina Governor Jim Hunt was in attendance and currently serves as the honorary chairman of the history center. However, locally and for over a decade, the hard work, dedication, perseverance and leadership for bringing the NCCWHC to Fayetteville is the History Center's Foundation Chairman Mac Healy and long-time resident and Fayetteville advocate Co-Chair Mary Lynn Bryan. Together, they represent a tour de force of spirit, enthusiasm and heart for what constitutes a healthy and robust community. They understand that American history cannot be changed or altered — only studied, appreciated and understood as it pertains to humanity.
This $80 million center will be part of the North Carolina state museum system. It is a godsend to the Fayetteville community, and we should be proud and grateful that the state has chosen our community for this honor. We, as citizens, should be Fayetteville proud that over $30 million in private funding has been secured for this Fayetteville and Cumberland County project. And, everyone should be overly excited about the economic impact this facility will have on our community in terms of consumer spending, creating new jobs and increasing tourism. These are all the things you would think our local mayor and city council would embrace.
Well, unfortunately, Fayetteville Mayor Mitch Colvin's absence at the groundbreaking was conspicuously noticeable.
This once-in-a-lifetime Herculean accomplishment could be the pinnacle and highlight of Colvin's mayoral career. After all, being an integral part of bringing an $80 million state-supported museum to the Fayetteville community would be a pretty impressive accomplishment when pursuing a political career. However, to make that happen, one must set self-serving politics aside, and all city residents' welfare must become a priority. And that takes cooperation, communication and flawless leadership.
The mayor and our city and county leadership will never again have a more opportune time to showcase their leadership skills or demonstrate their love of this community than by providing this museum. Everyone would be proud of an institution that would provide valuable learning and educational experiences for future generations. They, the mayor and city officials, have the power to make it happen.
In closing, history is history. It cannot be changed, altered or modified. Thank goodness that telling the truth has never been a bad thing. That being said, this is Fayetteville's chance to make history! Let's do it!
Thank you for reading Up & Coming Weekly.