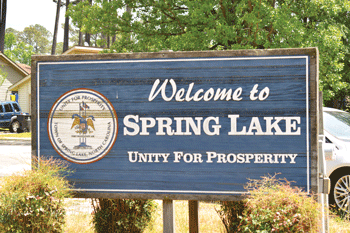 There are rising local concerns over the lack of media coverage and traditional news reporting in our Fayetteville and Cumberland County communities.
We have few journalists in our community dedicated to being purveyors of truth. History has proven without a doubt that any community, city, state or nation that lacks accurate and honest news media coverage cannot maintain freedom or democracy.
News journalists and the media are true protectors of democracy. Without media watchdogs and transparency in government, we invite and nurture gross mismanagement and cultivate a culture of corruption that ultimately leads to devastating consequences for citizens.
For a recent and unfortunate example of this, one needs to look no further than the Town of Spring Lake. Last week, Mayor Larry Dobbins and the Spring Lake Board of Aldermen received a notification warning from the Local Government Commission that the town's fiscal management was suspect. It noted that the town was in violation of the General Statutes of North Carolina and ran a risk of being taken over by the state if they cannot come into compliance.
For over a decade, several honest and frustrated Spring Lake citizens saw this coming. They looked on helplessly as they witnessed firsthand the town's management incompetence and irresponsible behavior of its self-serving elected officials. Spring Lake residents experienced firsthand the consequences of not having a voice in government or news media oversight that could have uncovered and reported on the town's business, policies and procedures. Or lack of. Without constant oversight, monitoring and reporting of their actions and policies, local government officials will always constitute a lack of transparency to local citizens, giving government staff and elected officials free rein to use and abuse their authority. They are confident their actions will never be divulged, nor will they be held accountable. This creates a frightening "culture of corruption" and a significant threat to democracy and fundamental freedoms.
The situation in Spring Lake did not develop overnight. It took years for town officials to get confident and comfortable knowing that the news media void could keep the general public from knowing what was going on inside the town hall. Spring Lake leadership took advantage of this situation to the town's detriment. The scary thing about it was they were all in concert with the negligence. Local media and dedicated and honest leadership at all local government levels could have prevented this.
I love Spring Lake, and I know many good, decent and honest people who live there, have businesses there, and have tried relentlessly to make Spring Lake the proud gateway to Fort Bragg it once was. However, without a news media outlet and local government transparency and accountability, it cannot happen.
Perhaps some of our readers are thinking, "why doesn't Up & Coming Weekly create a newspaper in Spring Lake." Well, we did. And, it had a talented editor and was successful. Perhaps too successful. The Spring Lake Beacon was delivered every two weeks in U&CW. It lasted about two years until the Town of Spring Lake decided not to support it. This caused the Chamber of Commerce (which was closely affiliated with the town and located in the Town Hall) to not support it. This lack of endorsement discouraged the local businesses from supporting it.
At that time, we tried to make a difference by providing Spring Lake businesses and citizens with local news and views while advocating for open government and transparency. We were rebuffed. We hope the current situation in Spring Lake will be resolved quickly, amicably, and result in honest, caring, and dedicated people stepping up to rebuild Spring Lakes' reputation and take its rightful and respectable place in the leadership of Cumberland County. We also hope that this unfortunate and dire situation in Spring Lake serves as a subtle warning to Fayetteville, Hope Mills and other communities of the consequences when no local newspaper or reputable media keeps the public informed of what is going on in their government.
It should also make all citizens skeptical of any elected county commissioner, city mayor or councilperson, town commissioner, or local government staffer who is opposed to the free press, news media, open meetings or the concept of transparency in government. The media, sometimes referred to as the "Fourth Estate," is America's watchdog of democracy at all levels of government.
Thank you for reading Up & Coming Weekly.