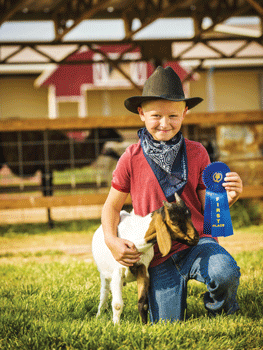 Most of us can probably remember our first trip to the fair. Holding tightly to mom or dad's hand as the exciting sights and sounds swirled around us.
Teenagers darted around the midway as carnival barkers beckoned them closer and food vendors offered meals and treats of every kind.
I love to visit the place the fair holds in my memory. It's full of music and family and sweet aromas that remind me of a time when life was simpler.
Now that I'm a father and a grandfather, I realize the fair is far more than the things that excited me as a kid.
It's a celebration of farmers and artists, an opportunity to compete and recognize the accomplishments of our friends and neighbors, and even to
reward those we all agree was the most impressive of all with a cherished blue ribbon.
And most of all – above the nostalgia, the competition and the celebrations – the fair is about community.
The Cumberland County Fair is only one of dozens of gatherings which went unmet in 2020. From concerts to holidays, church to business meetings, we were encouraged by those we put our collective trust in to stand a little further apart and, indoors or out, to keep our groups a little smaller.
That's only part of what makes the return of the County Fair on September 3rd something worth celebrating.
From Sept. 3-12 the grounds and buildings that comprise the Crown Coliseum Complex will turn into an exciting emporium of fun.
You may be wondering "In a world filled with iPhones, X-Box, Facebook and Netflix, does a county fair still matter?"
It does. Maybe now more than ever. Not for the games. Not for the rides, not for the exhibits or the pig races. But for community.
If we've learned nothing else in the past 18 months, we've learned how important we are to one another.
Leveling the ground around us and knocking down the walls between us is as important as it's ever been, and while it may be unfair to hang that much expectation on a County Fair, it's a great place to start.
When we come together to celebrate the same things, we can begin to erase the things that keep us apart.
And as we get close enough to smile and laugh together, we'll quickly find ourselves on the road to healing. As individuals, as families, as neighbors and as a community.