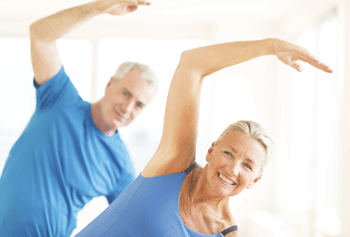 It may not cross our minds, but balance is essential and a prerequisite for movement and motor skills. When new participants come to class and I ask what is important to you, I often hear I need to work on my balance. Balance is related to our overall mobility, and we need balance for activities which include movement such as walking, crawling, getting out of a chair or leaning over to pick up an object. Studies have shown that a sizable percentage of ER visits for seniors are due to falls and a substantial number admitted to the hospital. Other factors that can affect balance are vision, hearing, medication, injuries, neuropathy and chronic ailments. Although falls may result from age, they are not an inevitable part of aging, and you can do something about it.
Balance training strengthens the muscles that help you keep up right and promote stability for your core. All muscles work together in balance training to promote joint stability. Training also improves your reaction time, agility, coordination and concentration. Balance exercises become embedded in your memory and could be the reason that you do not fall when that unexpected obstacle or unstable surface comes your way. Beneficial exercises for balance training include resistance training, core, legs, glutes and back. As you progress your confidence increases as you add more time, movement and unstable surfaces which all help your focus and concentration. Another factor that effects our balance is flexibility and strength in our ankles. A large majority of injuries for sprains and breaks are a result of inflexible and weak ankles. Foot exercises that include pronation, supination, dorsiflexion and plantar flexion are beneficial by improving flexibility, strength, stability and are an important addition to your training.
An article caught my attention with a bold headline that read "Balance Test." It began with a duration of a minute standing on one leg which I thought was a lofty challenge and could be discouraging for someone beginning to work on balance skills.
Balance is not always about a pose or how long you hold it. It is how your body supports stability and movement in everyday activities.
Working on your balance can begin in your home. A chair or counter offers stability to practice at any time and you can do it while you are brushing your teeth or working at the kitchen sink.
Begin while standing on one foot and then the other. See how long you can hold it or begin by holding for five seconds and you may also notice that balance is better on one side than the other. Soon you will begin to see your time increasing, less need to hold on and confidence to practice on unstable surfaces, movement and direction. There are other opportunities to practice balance other than home or the fitness center. I have found that waiting in line at a store or the grocery store with the aid of a cart can be fun to do by standing on one leg and then the other.
You can search for balance exercises online that include standing and seated and a good start for you to begin in your home. Fitness centers are another opportunity for balance classes with group fitness, personal training and classes such as yoga and tai chi. Balance training increases our awareness in how we move with more confidence. The bottom line is no one wants to fall and balance training along with exercise can help reduce the odds of falling and sustaining fall-related injuries.