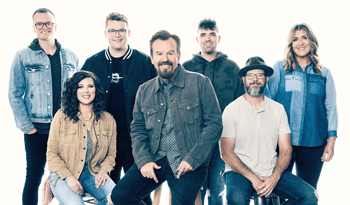 In a recent conversation with songwriter Mark Hall, we laughed over the irate response to their first single to Christian radio back in 2003. The song was, "If We Are The Body" which asks us — the church — if we are collectively here as the hands, the feet, the heart of Jesus, why are we not reaching, touching and going to everyone, everywhere?
Within weeks of the very first time the song played in Fayetteville on WCLN, we received a call from a missionary home on sabbatical who asked "...who is this band, and what gives them the right to level this sort of judgment?"
No more an affront to Christians than saying "We need to clean up this city" to a town council, the song was as much a surprise to the band as a first radio single as anyone else. During our phone call, the man who penned the song commented that the record label made the decision, and that they just realized the band would be coming out swinging.
The band is Casting Crowns, and after nearly 20 years of Gospel Music Association Dove Awards, Grammy nominations, and number one songs, they are bringing their unique sound — now a staple of Christian radio and playlists far and wide — to Fayetteville's Crown Theatre on Oct. 9.
Lead man Mark Hall and his wife Melanie still serve as youth workers at their home church in south Atlanta, and they only do so many dates per year — always ending up back home for their weekly gatherings on Sunday.
Casting Crowns began as the student worship band that Hall formed while he was serving at First Baptist Daytona Beach in 1999. Since then, they have moved their home base to Georgia, amassed a string of chart-topping songs and albums, and developed a musical following others merely dream of.
Singer/songwriter Matthew West joins Casting Crowns for the "Only Jesus Tour." He brings his share of radio hits and accolades to the table.
West, who came on the scene about the same time as Casting Crowns, has scored numerous top ten singles, and has to make room on the mantle for yet another award. In September he was named American Society of Composers, Authors and Publishers Christian Songwriter of the Year. For the fourth time.
Originally scheduled for March 14, 2020, the Fayetteville stop on the tour has been rescheduled several times for reasons circling the pandemic, and is truly a stellar package wrapped in a spirit of humility. Come expecting an evening of stories and songs that have touched a generation of listeners. The "Only Jesus Tour" with Casting Crowns and Matthew West lands in Fayetteville for one night only on Saturday, Oct. 9.
Pictured above: Christian music group Casting Crowns will be at the Crown Theatre Oct. 9. (Photo courtesy www.castingcrowns.com)