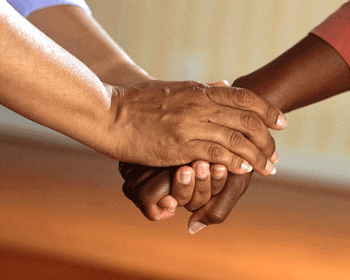 Do you ever just long for peace? And I'm not talking about the absence of war; that's too far above my pay grade. I'm talking about the kind of peace that finds us calm and content in the middle of even the worst imaginable scenario. That kind of peace is possible, but for many, it completely eludes us.
In a world where seemingly everything we do and say is contested, the stress of making what would once have been the simplest of decisions comes under scrutiny. The preconception that we can't be 'for' one thing without being 'against' another gets in the way of relationships of every kind.
As a Christian in today's world, our charge is the same as it has always been, be peacemakers. Some interpret that as a call to roll over and accept whatever comes next, but I believe it means – maybe now more than ever – to step up and step in.
Time after time in the Bible, we are told not to be afraid. You can interpret that to mean there will be plenty of opportunities to be afraid, but that we shouldn't be. One such instance is found in the Gospel account given by John.
Jesus said, "Peace I leave with you; my peace I give you. I do not give to you as the world gives. Do not let your hearts be troubled and do not be afraid." (John 14:27)
Not long afterward, Jesus tells his disciples that the world will hate them.
"If the world hates you, keep in mind that it hated me first."
He went on to say, "If you belonged to the world, it would love you as its own. As it is, you do not belong to the world, but I have chosen you out of the world. That is why the world hates you." (John 15: 18-19)
This statement doesn't sound very comforting. Hey, those people you'll see later today. They hate you. And so will the ones you meet tomorrow.
Yet Jesus said these words to those close followers with both peace and conviction.
The comforting part is that he tells them not to sweat it. That he's telling them in advance is perhaps the most remarkable thing Jesus could have done.
Knowing that to believe and follow the things Jesus taught is setting myself up for rejection seems a fair enough warning, but it still doesn't account for the pain and conflict we experience on a day-to-day basis.
With or without God, stuff happens. Friends die, people take advantage of us, and those we love the most might walk away without notice.
I've said many times, the price of discontent is high. And it is. Very high.
We find ourselves looking for more, better, faster, and we begin to stir up a little war within even ourselves.
But there is peace. And it comes from a place far from here but is within reach every second of the day. What's better is that you can not only have peace, but you can extend it to others.