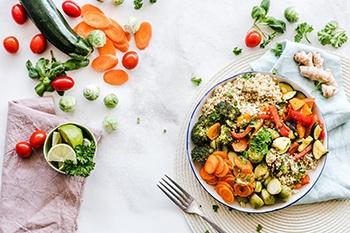 Weight loss is often a primary reason people join a fitness center or start exercising. A healthy weight loss goal is to lose one-to-two pounds per week for long-term sustainability. A drastic weight loss approach with a caloric intake of four hundred to eight hundred calories per day can be non-sustainable. With this type of approach, you will likely regain weight within six months or less. A good diet with exercise can help you lose weight and maintain your weight loss goals.
Anyone can slash their caloric intake and lose weight, but is this weight loss a plan you will continue to follow? Educating yourself about nutrition-related dieting options empowers you to make good decisions about food consumption for health and wellness. Choosing a weight loss plan can be overwhelming with all the available commercial programs and apps because no one diet fits all. Take your time to research a plan or app that will work for you. Two diets surface when I read health and fitness articles: the Mediterranean and Paleo diet.
The Mediterranean diet emphasizes fruit, vegetables, seafood, and grains -in moderation. The Paleo diet features an abundance of meat, seafood, poultry with fresh vegetables and fruit. While I am not suggesting that you try either of these diets, I think the Mediterranean diet is an interesting read for this column. It became popular in the fifties and sixties when Ancel Keys and his colleagues studied relationships between diet and coronary heart disease in Greece, Spain, Italy, Finland, Japan and South Africa.They found that the diets in Italy and Greece had the lowest risk of developing heart disease. In general, people in these countries enjoy long lives with low rates of chronic disease.
The lifestyle in these countries also embraces regular physical activity and leisurely meals with friends and family. The question is, why is this diet so effective?
The Mediterranean diet encompasses many fruits, vegetables, whole grains, legumes, fish, olive oil, nuts and seeds. It is a heart-healthy eating plan that incorporates cooking methods and flavors of the region. The diet is rich in fiber, protein, and Omega -3 fats and allows for a modest amount of carbs. The preferred beverages on this diet are coffee, tea, water and an occasional red wine. It encourages fewer eggs, red meat, white meat, sweets, refined grains, processed foods, sweetened beverages and unhealthy oils.
Research has shown that this type of diet can reduce your risk of diabetes, cancer, Alzheimer's and Parkinson's diseases, metabolic syndrome and heart disease. People in these countries enjoy long lives with low rates of chronic disease. The reason is that the diet has fewer foods high in fat, salt and sugar. The result is weight loss, reduced risk of cardiovascular disease and less inflammation in the body. Studies also suggest that this diet promotes good gut health and healthy aging. Below are menu choices for breakfast, lunch, dinner and a snack. Breakfast: Grilled tomatoes on whole-wheat toast, yogurt with fruit or kale and butternut squash frittata. Lunch: Mixed green salad with olives and cherry tomatoes (oil and vinegar dressing) or whole-grain sandwich with hummus, vegetables, or chickpea salad. Dinner: Whole–grain pizza with grilled vegetables or broiled salmon with brown rice and vegetables. Snack: Hummus with red bell peppers. Look for my next column, which will feature details on the Paleo diet. Live, love life with healthy eating and exercise.