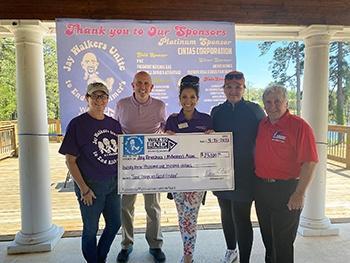 Just weeks ago, in March, the Public Works Commission was awarded the 2021 Spirit of North Carolina Award by the United Way of North Carolina for their dedication and consistent community investment in Fayetteville and Cumberland County. This award is earned not only by achieving annual campaign excellence but by demonstrating leadership, engaging volunteers and participating in and organizing events that impact the residents of the entire community.
I don't think there is another quasi-government affiliated organization that has ever reached this level of success. Out of nearly two dozen United Way organizations in North Carolina, our Fayetteville "Hometown Utility" has been distinguished and honored with this award 16 times. This success is excellent, born of not leadership, compassion and love of community. PWC's leadership and employees demonstrate what our community is all about every day.
Just weeks later, the American Public Power Association recognized PWC with the Reliable Public Power Provider Diamond designation for providing safe, consistent and reliable electric service to their customers.
Competing with over 250 public utilities nationwide, our Fayetteville PWC is the only power utility company that has earned the Diamond level recognition six times. It's hard to hide leadership excellence.
This excellence was further demonstrated this weekend when PWC leadership under the "PWC Jaywalkers" flag organized their own Jaywalkers Alzheimer's Awareness Golf Tournament for retired Assistant City Manager Jay Reinstein, who was diagnosed with early-onset Alzheimer's disease. Reinstein was a dedicated city servant but has become a spokesman and relentless supporter and advocate for Alzheimer's Awareness.
The event, held at Kings Grant Golf Course, was a huge success. In just five weeks, PWC CEO Elaina Ball and Communications Director/Community Relations Manager Carolyn Justice-Hinson rallied dozens of PWC employees, community volunteers, and local businesses. Together they successfully raised over $23,000. This money will support Reinstein's Alzheimer's medical treatments and benefit the Fayetteville Walk to End Alzheimer's on April 29th at Segra Stadium. Since Reinstein's retirement in 2018, his team of JayWalkers has raised tens of thousands of dollars for the cause.
This golf tournament was a fantastic event for a great cause that benefited a great guy. The fun, fellowship and love that radiated from that gathering is inspiring and only reinforces what the Fayetteville community is and should be all about. Ball and her PWC leadership team continue to set gracious examples of how business, professionalism and humanity are achieved by just doing the right things for the right reasons. From this, we all can learn. A special shoutout to City Councilwoman Kathy Keefe-Jenson is in order; she was the only elected official for the city or county to come out in support of one of their own.
Thank you for reading Up & Coming Weekly.