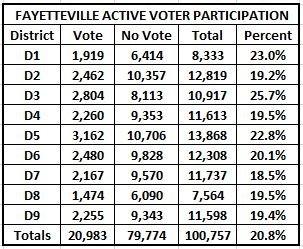 Fayetteville's May 2022 City Council primary election was historic in voter turnout compared to the past 20 plus years of city council primaries. Two obvious reasons drove this turnout.
Fayetteville's primary was paired with Cumberland County and state-wide primary elections, and for the first time in recent memory, eight of the 10 city council seats actually had a primary election.
Media personalities and reporters often regurgitate initial voter participation numbers over several weeks after an election without actually analyzing the complexity of the City of Fayetteville electorate.
Being polite, most media personalities and reporters don't know the nuances of Fayetteville's ever-changing voter rolls. Specifically, active voters within Fayetteville corporate limits. Not their fault, as most media personalities and reporters don't have time to interpret Fayetteville registered voter data before they report voter participation data.
Fayetteville's City Council electorate is unique for a couple of reasons.
I provide a different approach within this opinion piece, identifying which Fayetteville voters actually showed up and pulled a ballot for the City of Fayetteville primary election.
Thanks to publicly available state online voter records and our Cumberland County Board of Elections Office, I have a by-name list of everyone that voted and active voters choosing not to vote during Fayetteville's May 2022 primary. Two things to remember.
1. Council Districts 1, 3 and 8 include portions of Fort Bragg (Manchester voter precinct). Over the past ten years, less than 100 people on Fort Bragg have voted in Fayetteville City Council elections across the three districts. They usually show up for the presidential elections. Not Fayetteville City Council elections.
2. "Active Voters & Inactive Voters" are contained within Cumberland County's voter database, just like the State of North Carolina voter database. Inactive voters across Cumberland County skew actual voter participation numbers and lower the perceived voter participation rate. Very few inactive voters are ever reactivated for municipal-level elections like in Fayetteville. Several are reactivated for presidential elections.
I removed all inactive voters and eliminated the Manchester voting precinct from the equation in my analysis. I found there were just under 101,000 "active voters" on the Fayetteville City Council 2022 primary election rolls that resided within the non-Fort Bragg portion of Fayetteville's corporate limits.
Hopefully, this simple chart explains active voter participation numbers across all nine Fayetteville City Council districts during the May 2022 primary.
In the upcoming July city council general election, all 10 seats are contested, and voters will be able to vote for the mayoral position and their assigned city council district.
Since there is no truly contested mayoral race I predict Fayetteville's final/general election in July will have much less voter turnout compared to the May 2022 primary election.
Just my personal prediction based on past voter turnout results. We will know in about seven weeks.