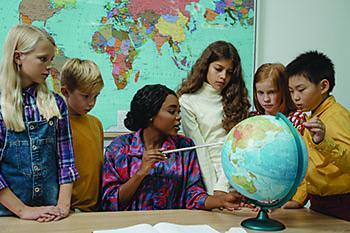 Yellow buses are rolling across North Carolina as kiddos return to school for the first "normal" school year since 2018-2019.
But wait! "Normal" is not the correct word, because thousands of students, including some in Cumberland County, will find themselves in classrooms without certified teachers.
Teachers have been resigning and retiring in droves, again including teachers in Cumberland.
The reasons, of course, are unique to each individual educator, but there are many commonalities.
Teachers are increasingly stressed, and with good reason. The pandemic shut down schools almost three years ago, sending teachers and students into virtual learning scenarios, ready or not. The result has been thousands of students performing below grade level and teachers now expected to "fix it."
In addition, staffing shortages mean teachers must cover for each other as well as for other school employees who have also left for greener pastures. It amounts to less support and more work.
But wait! There's more.
In the early 2000s, North Carolina's teachers were looking at rising salaries and growing respect for their work as professionals. Not so today. North Carolina's teacher pay ranks 34th out of 50 states, according to the National Education Association's annual report.
This, according to the Economic Policy Institute, is almost 25% below what the average teacher would earn in the private sector, the so-called, "teacher wage penalty."
And, like everyone else, teachers are also losing out to inflation.
In all honesty, would you put up with that from your employer if you had a choice?
And, if all that were not enough to send teachers running for the door, layer on the Republican-controlled General Assembly's latest proposal for teacher pay based on performance as judged by student test scores, student surveys and principal and peer evaluations.
Really? Even when student performance depends on far more than teacher input and when evaluations can be highly subjective, not to mention vindictive?
Included in the proposed plan as well are provisions to allow individuals to enter the teaching profession without an education degree.
Top off all the proposed changes with the reality that Republican legislators are accusing teachers of indoctrinating students with facts and ideas about race and gender that the right wing does not agree with, transforming classrooms into political battle fields with students as cannon fodder.
Even if we assume there may be merit in some of these ideas, the stressful fall of 2022 is hardly the time to press for them.
There are no easy remedies to these complicated issues, but adequate pay and professional respect would go a long way, especially since the General Assembly is sitting on a $6 billion surplus stockpiled by cutting taxes on the upper income earners and corporations.
The General Assembly is almost literally and personally walking teachers out the door.
It is high time for legislators and would-be legislators to put their money where their mouths are and pay teachers what they are worth and show them professional respect.
It is also high time for voters to consider such reckless and damaging decision-making on the part of legislators when we go to the polls on November 8th.
Really.