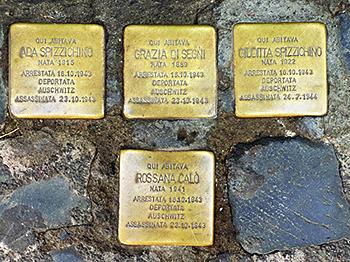 My wife, Rebekah, and I have spent the last few days in Rome, Italy. Everywhere we look there are reminders of ancient human history ... a couple thousand years' worth anyway.
We're learning that many of the old structures here — some of the 1200 churches, the Colosseum, the Pantheon, Circus Maximus, many of the monuments to yet another egotistical emperor — were built in part by slave labor, often Jewish slaves.
So, should they all be torn down, demolished, erased from memory, deleted from history? (As though that's even possible!)
Or should they — as they are — serve as objects to make history visible and touchable today, as icons of eras past, providing insight into human behavior and trends of earlier times, even serving as instructional elements for those alive today? And, even as revenue producers by those who come from afar and pay to see and experience them … because they are still here.
Lift your sights, leaders of Fayetteville, when it comes to the fate of the most iconic, historic building in the town that we call home — the Market House. Learn from places in the world that really are old and historic, all of which have checkered chapters in their past.
While walking through what was once the Jewish Ghetto in Rome, we saw the bronze plaques embedded in the floor near the doors of Jewish residences in the 1940s. Engraved on them were the names of those who lived there, the year of their birth, the date of their arrest and deportation to Auschwitz and the date of their "assassination."
It reminded me of an earlier trip I made to Krakow, Poland, and visited the nearby compound of Auschwitz. I actually walked into the oven where Jews were crammed in and gassed to death. The ovens obviously weren't originally built for that use, but nevertheless they were the site of some of the most horrific acts of human derangement in history.
So, should the entire complex of Auschwitz be demolished, obliterated, because of what happened there?
Obviously not, in the opinion of the worldwide Jewish community, many of whom lost family members there, in much more recent history than anything that happened on the steps of Fayetteville's Market House.
In fact, while there, I saw busloads of young Jewish students touring the site, learning first-hand some valuable lessons from history — exactly where it all took place just a generation or two ago.
I'm fully aware of the fact that because I'm not of African American descent, in the minds of some, I'm unqualified (or unworthy) of voicing an opinion on the matter of the Market House's link to the issue of slavery.
Furthermore, I'm a relative newcomer to Fayetteville. I moved here in 2010, after marrying a bonafide "Fayette-Villian," as I jokingly refer to Rebekah. She's a graduate of Pine Forest High School. She's, in fact, a 6th-7th generation native of Fayetteville. So, she's my ticket to entry into the community I proudly now call home.
We are fortunate we can choose to live anywhere. Our global business is portable and not tied to any one locale. We have friends and family in many places. All we need is an airport and the internet.
We are in Fayetteville by choice and love living downtown. As a kid who grew up in church and loves baseball, our daily view of downtown churches and baseball stadiums is about as good as it gets. While we're here, we want to be good citizens and do all we can to make Fayetteville a great place to live for everyone.
A Minority Perspective
I grew up a missionary kid, so a different kind of "military brat" — the Lord's Army. As such, I had a taste of minority life in my youth. My family was one of only five white families in a SE Alaskan fishing village in the 1950s.
As a teen in South America, I was a blonde-haired, blue-eyed gringo in a brown-skinned, black-haired world. I never viewed my racial difference as a disadvantage.
As a child, I was adopted into the Eagle Tribe of the Tlingit Nation and still maintain contact with my Alaskan "family." Though decades removed from my high school years in Peru, I can still hold my own in Spanish.
Here's a more current concern of mine as it relates to racial disharmony here in Fayetteville. Rebekah and I have four mixed grandchildren. They are all well-traveled. They've lived in Hawaii and blended with Pacific Islanders. They spent time in the Philippines and worked alongside their missionary mother in an orphanage in Cameroon, West Africa. They now live in Idaho, a relatively "white" part of the country. They don't see color, a virtue I'm proud to have had a part in passing on to them.
You know what I don't want to expose them to? It's some blatant, racially prejudicial behavior I see plainly displayed on the streets of Fayetteville on a regular basis. There are often some "street preachers" loudly proclaiming their message and reading from their religious texts on the streets downtown, often wearing garments compatible with their particular persuasion. I certainly respect their rights of free speech but do question their motives or their effectiveness.
As one who spent 20 years in full-time ministry, I'm always eager to acknowledge the zeal and enthusiasm of those who are bold in their faith. So, on one occasion, I stopped to have a friendly visit with them. It wasn't long before I was informed that their version of the gospel was black-centered only.
I was boldly and emphatically informed that I, as a white person, had "NO HOPE." Now, on more than one occasion, when simply walking by them on our way to dinner or one of the many downtown shops we like to patronize, I hear them say (in my direction) — "Damn you white people!"
If I were the leaders of Fayetteville, I would be concerned about such expressions of racial hatred and such example of "hate speech" — happening on the streets of my town in 2022 — just outside of buildings that serve as places of business by respectable members of the community. I wouldn't be trying to destroy a building that was erected as a place of business, even though it was used by some to conduct business that was most certainly deplorable in every sense of the word.