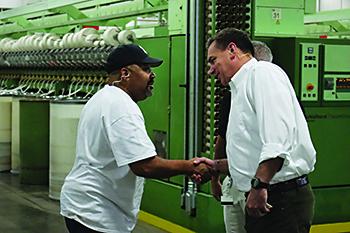 What would you do with an extra $700 in your pocket each month?
This is the question families across our nation should be asking, as the highest inflation in four decades is costing the average household an estimated extra $717 each month compared to January 2021.
As I travel across our region, I constantly hear how this inflation crisis has impacted every community and every part of our lives. Just last month, grocery prices spiked at their fastest pace since 1979. Household electricity prices are up nearly 16% from one year ago. And the average price of gas remains close to $3.80 a gallon, up from $2.38 on President Joe Biden's first day in office. I am really concerned too about increased costs to heat your home this winter — especially for folks on a fixed income.
These economic challenges have been primarily driven by out-of-control spending in Washington and the Left's war on American energy production and jobs. The consequences of these actions are forcing families to make hard decisions around the kitchen table.
Yet, the challenges facing you and our nation unfortunately do not stop there.
At our border, roughly 5 million illegal immigrants, including nearly 80 people on the terrorist watchlist, have crossed since President Biden took office and stopped deportations, the wall, and the 'Remain in Mexico' policy. In August alone, more than 203,000 migrants crossed — almost the entire population of the city of Fayetteville.
This border crisis is a threat to every community, especially through the increased flow of deadly drugs.
Due in part to record amounts of fentanyl crossing our border, overdose deaths hit an all-time high last year, becoming the leading cause of death for Americans aged 18-45.
North Carolina alone had 3,759 deaths from opioid overdoses. This includes 183 in Cumberland County — 100 more than in 2019.
On top of this, our communities continue to be plagued by a rise in violent crime. National homicide and aggravated assault rates have risen roughly 50% and 36% respectively, compared to this time in 2019.
Tragically, these come as intentional killings of law enforcement have reached a 20-year high.
Under one-party rule in Washington, it is clear that America's economy, safety, freedom and strength are all under threat like never before.
I have opposed Washington Democrats' agenda which will only worsen these crises, such as their so-called 'Inflation Reduction Act' that will raise your taxes and hire 87,000 more IRS agents to come after you.
Washington Democrats are ignoring the crises they have helped create and don't have a plan to fix them. House Republicans, however, have a plan.
Called our "Commitment to America," House Republicans have recently released a detailed plan to take our country in a new direction and establish a future of security, freedom and prosperity for you and your family. You can read our plan at CommitmentToAmerica.com.
First, we have a plan to create an economy that's strong. The economy remains the most pressing issue facing families across this country. We are committed to getting it back on track by curbing reckless spending, making America energy independent again, and creating an economic environment that encourages growth, job creation, and lower costs.
This involves bringing manufacturing back to the U.S. and standing up to adversaries like China that feel emboldened after last year's botched withdrawal from Afghanistan.
We also have a plan for a nation that's safe. We will work to tackle the crime wave plaguing our communities by rejecting anti-police and soft-on-crime agendas. Our plan hires an additional 200,000 police officers and gives law enforcement the resources and support they need to get the job done.
We will also work to secure our border and stop the flow of fentanyl through proven measures such as 'Remain in Mexico,' finishing the wall, and by implementing my HALT Fentanyl Act.
Finally, we are committed to keeping our nation safe by supporting our troops and their families.
We also have a plan to secure a future built on freedom. This means giving you control of what happens in your kids' school and confronting big tech censorship.
It also means personalizing your health care to provide affordable options and better quality.
In Congress, I have helped move us in the right direction by voting to cap insulin costs at $35 and advancing my bipartisan MOBILE Health Care Act, critical legislation to expand access in rural and underserved communities.
Finally, we have a plan to build a government that's accountable. This starts by standing up for your God-given rights like life, and the First and Second Amendments. It also means making sure the government in Washington fulfills its obligations to you through oversight and transparency.
It is an honor to serve you, Fort Bragg, and our community. In Congress, I have always sought to work across the aisle on commonsense solutions to the problems facing you and your family.
However, it is clear that two years of one-party rule in Washington have put our economy, safety, and prosperity — as well as an extra $700 a month — in peril.
Instead of electing more rubber stamps for President Biden and Speaker Nancy Pelosi, the choice this November is simple: If you want an economy that's strong, a nation that's safe, a future built on freedom, and a government that's accountable — then we Republicans are prepared to deliver on our Commitment to America.
Will you join us?
Editor's note: Rep. Richard Hudson is serving his fifth term representing North Carolina's 8th Congressional District in the United States House of Representatives. He currently serves on the Energy and Commerce Committee and in House leadership as the Republican Conference Secretary.
Rep. Hudson grew up in Charlotte, graduated from Myers Park High School and earned his Bachelor of Arts degree in History and Political Science from the University of North Carolina at Charlotte,
He and his family live in Moore County.