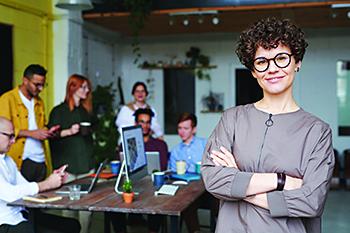 Corporations seek those with leadership ability because they believe these individuals bring special assets to their organization and, ultimately, improve the bottom line.
— Peter G. Northouse, "Leadership"

Why does leadership matter? In today's global environment, organizations and communities want leaders who can guide them and drive positive change. Now more than ever, these same organizations and communities seek agile, creative and analytical leaders who are capable of operating in a complex and ever-changing environment.
In other words, candidates are sought who can successfully lead businesses and organizations out of the post-pandemic period and into the emerging "meta" era. Is this you?
Do leaders matter? Leaders at all levels assess requirements against capabilities and, in turn, leverage their personnel to attain goals. However, it is the skilled leader who visualizes, describes and directs not solely on where "we are" but rather synergizes the past and forecasts the future to positively affect "today." Is this you?
Leadership changes the world. We study leadership so we can be successful leaders for organizations now and in the future. The Leadership Studies program at Fayetteville Technical Community College is looking for students who have the passion, drive and commitment to confront challenges in a constantly changing global world. Are you ready to meet the challenge?
Interested in leadership? Perhaps you should consider a degree in Leadership Studies. FTCC's Leadership Studies degree is a 5 semester/64-credit-hour program designed to provide students with the knowledge and skills necessary for employment and growth into leadership positions.
Course work includes various subject areas related to leadership involving data-driven decision-making, change management, strategic leadership, planning, team-building, leadership capacity, motivation and effective communication.
Graduates will earn an Associate of Applied Science (AAS) and may qualify for leadership positions in the public and private sectors. Occupations may include positions specific to the military, governmental agencies, public policy, non-governmental agencies, law enforcement and homeland security.
How do you begin? Registration for Spring classes at FTCC is open, and Spring classes begin Jan. 9.
The arrival of a new year brings renewed hope and excitement, a "clean slate" waiting to be filled with ideas and directions for pursuing a new career, upgrading job skills and improving overall quality
of life.
Your local community college is an outstanding resource for pursuing a better quality of life through education. Whether your educational interest falls in the area of Leadership Studies, or in some other field or area, FTCC has over 280 academic programs to choose from, conveniently and affordably offered to help you make the most of your career decision.
For additional information about the Leadership Studies program, please visit https://www.faytechcc.edu/academics/business-programs/leadership-studies/ or call 910-678-8521 or email smithse@faytechcc.edu.
You can reach an FTCC Admissions representative at admissions@faytechcc.edu to get started at FTCC.
Your journey to a new career begins with the first step at FTCC. Let us help you find your way forward.