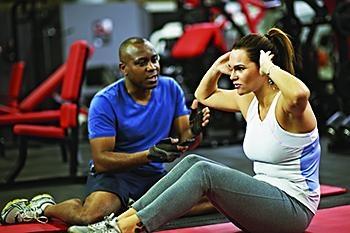 A common question after Christmas is about New Year's resolutions. Common resolutions are joining a fitness center, weight loss,or simply wanting to get into shape.
Healthy comes in all sizes and shapes and it is unfair to the consumer to think that you are going to look like the fitness model in commercials and print, or that you will have a flat stomach. However, it is important
to know that you are doing something healthy for yourself and are able to continue enjoying an active lifestyle.
If you are thinking about a lifestyle change to a healthier you, ask yourself why you are about to make a change and what has brought you to this decision. Is it weight loss, lack of balance, difficulty in getting off the floor, strength training, back hurting, blood pressure, shuffled walking, recovery from illness or injury, or if you feel it is time to do something for yourself?
Sometimes people will tell me, "I do not like to exercise, I don't have time to go to the gym, I can exercise at home, I do not like going to the gym or I can't exercise because of."
When we are younger, exercise is more about looks and as we age, exercise is more about sustainability.
I wish there were another word for exercise that brings a positive light instead of drumming yourself into extinction in a gym. Let's remove the word exercise and replace it with wellness and forget the guidelines with what and how much you should do.
When I have a new client my first question is "tell me about yourself and what you like to do." The next question is "tell me about your previous work or injuries."
Both of those open-ended questions tell me what will motivate them and the reason they may be experiencing some difficulty with movement or limitations. A person beginning a fitness program will respond better if they are doing something that they like.
Self-care is the first step in a wellness program and a valuable gift for yourself. There is nothing wrong with taking time for yourself and embarking on a wellness journey and fitting your workout into your schedule. Continue to give your time for family, friends, obligations, social engagements and charitable work, but also recognize that saying "that time is not convenient for me" is a powerful statement for you.
There are a lot of reasons to join a fitness center and, outside of the wellness benefits, social engagement is just as important. You will make new friends and get to know people that share your interest.
You will also find a community that is there for the same reason as you. It can also be beneficial to begin your fitness training with a personal trainer to show you the proper way to perform exercises, reducing the risk of injury and developing a plan to reach your goals.
Sometimes, people are hesitant to go to fitness classes or join a gym because they feel uncomfortable with how they look or their ability to be a part of the group or do the exercises. All those feelings are normal but begin to dissipate as you start to see changes in yourself and your confidence grows.
Live, love life and wellness for you in 2023.