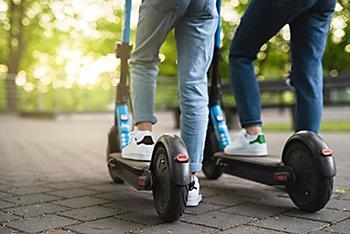 In a community of our size that is deficient in attractive gateways, greenways, sidewalks and bike paths, the Fayetteville City Council has chosen to mimic the trendy ideas of other cities despite their documented hazards and dubious positive effects on the community.
I'm referring to the Fayetteville City Council's proposal for creating a shared transportation system utilizing electric scooters in downtown Fayetteville and other areas of the city. Yep, only our city leadership would advocate for an initiative that has a history of plaguing other metropolitan cities with the hazards and dangers of electric bicycles and two-wheeled scooters.
Well, in this case, our Council may be putting the proverbial "cart before the horse."
First, "Micro-mobility" (B***S*** name for Mechanical Litter) may be more feasible in large cities and municipalities, however, Fayetteville is not Dallas, San Francisco or New York City. We're not even on the level of Winston-Salem or Durham. And, though e-scooters may be perfect for short-distant trips, in downtown Fayetteville all trips are short trips.
Second, alternative vehicles such as electric bikes and scooters operate best in areas with sufficient pedestrian pathways and adequate bike paths. Fayetteville has neither. Sure, the City Council has committed bond funds for creating more bike lanes and pedestrian walkways in Fayetteville but those plans are still on the drawing board, and no telling how long it will take to complete.
Of course, organizations like the Downtown Alliance are most likely to be skeptical of the proposal because astute businesses are acutely aware of what negatively affects their business.
In addition, downtown merchants are acutely aware of what messages come out of City Hall. They do not necessarily lie but most commonly are configured as 'half-truths.'
For instance, the city contends that downtown merchants really don't understand the proposed draft ordinance and that they have misinterpreted what is proposed.
After all, the city's draft ordinance clearly states that electric scooters and bicycles would not be allowed to be ridden on sidewalks. Really? So, we are to believe that our City Council and staff are more knowledgeable about this subject than say Consumer Report, the Insurance Institute for Highway Safety or the Consumer Product Safety Commission?
Oh, and guess what? IIHS finds that riding on sidewalks IS dangerous for riders and pedestrians, and they have found that without a concrete plan of where and how e-scooters can be operated, they will pose safety risks for both riders and pedestrians.
The rapid growth of this industry has left municipal leaders struggling to keep up with general traffic impact and rising safety problems. According to the Consumer Product Safety Commission, e-scooters resulted in an estimated 50,000 emergency department visits, and at least 27 fatalities between 2017 and 2019, with injuries and deaths rising every year.
Our city officials would like to you think that other cities like Raleigh, Durham, Winston-Salem, Greensboro, Greenville and Charlotte all have successfully implemented e-scooter programs and these serve as a positive endorsement that this is a good thing for our community. Wrong! That's another half-truth.
First of all, we are NOT Raleigh, Durham, Winston-Salem, Greensboro, Greenville.
Second, Fayetteville has one of the worst traffic accident records in the state and one of the highest motorcycle accident fatality rates. When the The Charlotte Observer reports in 2019 that statewide crash data shows 34 crashes resulting in serious e-scooter injuries and identifies them as 15 in Charlotte, 17 in Raleigh, and one each in Winston-Salem and Greensboro with another 17 crashes in these two cities that caused only property damage.
And, in addition, according to the N.C. Department of Transportation, many e-scooter accidents go unreported. So, there you have it! I am not a fan of "Micro Mobility."
It is my hope the Council comes to its senses and fully understands the burden of liability it will take on if they issue permits for these types of vehicles.
The city would be wise to follow the gut instincts of the residents, organizations and business stakeholders downtown. They are correct: e-scooter vehicles are dangerous, a nuisance, and a hazard to pedestrians, and will ultimately appear as unsightly mechanical litter on the streets of downtown.
In closing, for Council members like Councilman Mario Benavente who favor finding positive ways to expand downtown, may I suggest you focus on homelessness, panhandlers, parking, crime, litter and of course, shopping carts!
Thank you for reading Up & Coming Weekly.