Last Thursday, Gallery 208 launched its 13th year of showcasing the art and the artists of our local community, region and state.
Our opening exhibit, coordinated by Soni Martin, Professor of Art at Fayetteville State University, is titled States of Mind.
It is a collection of paintings by Angela Stout, an extremely talented painter, printmaker and sculptor. Angela perfectly exemplifies how the Fayetteville community values, embraces and nurtures the cultural arts. A military veteran, Angela received her Associate of Visual Arts degree locally at Fayetteville Technical Community College and her Bachelor of Arts degree from Fayetteville State University.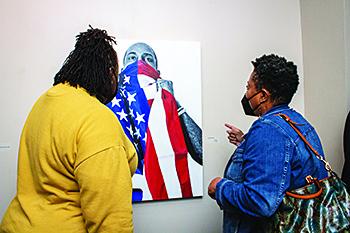 The exhibit of her works in Gallery 208 is one you do not want to miss. Located at 208 Rowan Street, the Gallery is open and free to the public from 9 a.m. to 4 p.m. Monday through Friday.
The fine arts are the catalyst for a civilized society. With art comes insight, understanding and tolerance. With appreciation and respect for art and artists, there would be no need ever to mandate Diversity, Equality or Inclusion. Historically and traditionally, that's what the cultural arts are all about. It is what Angela is all about and what Up & Coming Weekly is all about. Visit Gallery 208 and experience it for yourself.
Thank you for reading Up & Coming Weekly.