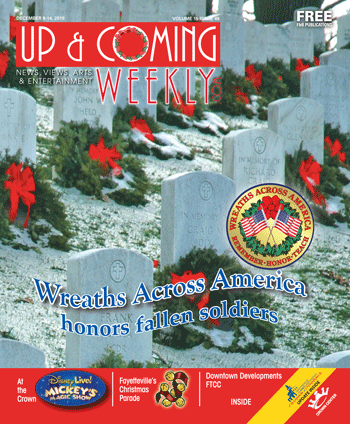 Sometimes it is hard to know how to thank a veteran — someone who has served on your behalf, and quite possibly faced and endured things that some would prefer not to acknowledge or even consider. What about the fallen and their families? How can we honor them and the sacrifi ces that they have made?
So maybe this isn't the easiest of topics to be reading during the holiday season. It's relevant though. At noon, on Dec. 11, the Dogwood Chapter of Gold Star Mothers along with the local HOG chapter, the 82nd Airborne Foundation, the Combat Veterans Motorcycle Association, Rolling Thunder and Patriot Guard Riders are gathering to take part in the Wreaths Across America Campaign at Sandhills State Veterans Cemetery in Spring Lake.
Wreaths Across America started in 1992 when Morrill Worcester of Worcester Wreath sponsored the Arlington Wreath Project by donating 5,000 Christmas wreaths to Arlington Cemetery. Since then, the project has grown as thousands of requests poured in from around the country from people wanting to emulate the project.
The second Saturday in December, at noon each year, Wreaths Across America places a wreath on the graves of veterans in cemeteries large and small across the nation. This year there are more than 400 ceremonies that will take place simulataneously with approximately 500 wreaths to be placed locally.
"What we are trying to do here is to show these families that the sacrifi ces that they and their loved ones made have not been forgotten," said Steve Adam, Cape Fear HOG spokesman. "It is a way to honor those who gave the last full measure of devotion and to show that we are grateful for their sacrifice."
There will be a short ceremony, with Brig. Gen. Edward M. Reeder Jr., Commanding General, U.S. Army Special Forces Command, speaking.
Seven wreaths, representing each of the armed services and the veterans who have served in them will be placed at the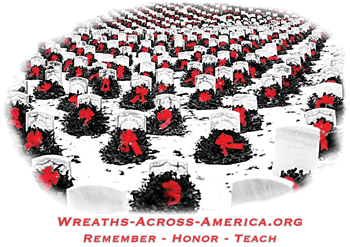 base of the fl ag. Gold Star mothers and perhaps a few Gold Star wives will be among the fi rst to lay wreaths on the graves.
Musical tributes will be a part of the ceremony as well with a bugler playing "Taps" and a rendition of "Amazing Grace" on the bagpipes.
"It's a very sobering and moving experience. Have you ever heard "Amazing Grace" on the bagpipes?" said Adam. "It'll bring the toughest of men to tears."
While the time for fundraising and accepting wreath donations has past for this particular event, the public is welcomed and encouraged to attend. There are plenty of wreaths to be placed and this is also an opportunity to show respect and gratitude to the fallen, Adam said.
"This is not a fundraiser," said Adam. "People need to know that there is no money being made here. This is a group of grateful citizens, honoring our fallen soldiers."
To find out more or to make a contribution to Wreaths Across America, visit www.wreathsacrossamerica.org.
For questions about the Sandhills State Veteran's Cemetery, call 207-483-2039 or e-mail lorietex@aol.com.