It's time for the Fayetteville-Cumberland County Chamber of Commerce's top-ranked trade show. ShowBiz 2011 Surviving and Thriving will be at the Crown Expo Center from 9 a.m. - 4 p.m. on March 9.
The Chamber is excited about the opportunities this brings to the community and businesses alike and they are betting that when the doors open, both vendors and attendees will catch the spirit of excitement too.
"Showbiz is our premier business to business networking trade show. It is an opportunity for small businesses and businesses in the Fayetteville, Cumberland County area to come together and to showcase their products and services to the community," said Fayetteville-Cumberland County Chamber of Commerce Events Manager Sonia Ramirez-Garza. "We tell the vendors who are participating that what they need to take away that day is networking amongst themselves but also with the attendee's that come in, since the show is open to the public and it is free admission."
The Chamber of Commerce chose this year's theme, Surviving and Thriving, to illustrate "the resiliency of our community's real estate and retail markets, show how Fayetteville and Cumberland County are working through the economy's shortcomings and gives businesses the opportunity to showcase their business practices and products in a thriving community. ShowBiz is a gateway to a world of resources that enables attendees to buy locally and boost the economic activity of Fayetteville and Cumberland County."
Last year's show brought in about 100 vendors and more than 1,000 attendees — that's plenty of opportunity to make a few connections.
This year looks to be just as busy and exciting.
There will be three seminars throughout the day, centered around the Surviving and Thriving theme.
The American Red Cross will host a CPR demo along with fi re safety and other home-related safety and survival issues.
Goodyear Tire and Rubber Plant Manager Billy Taylor is scheduled to speak about leveraging a business in our economy.
Elite Training Group will also be on hand to do a demonstration on survival techniques and how you protect yourself in survival situations.
"It is going to be really fun," said Ramirez-Garza. "I am excited to see what everyone has to offer."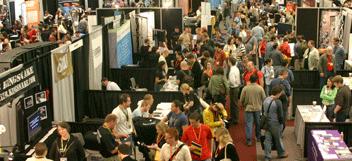 During the day Cape Fear Valley Blood Donor Center will conduct a blood drive from 10 a.m. - 2 p.m. so not only is this a chance to make a few connections, there's an opportunity to potentially save a life and help your fellow man. Blood donated to the Cape Fear Valley Blood Donor Center goes right back into the community and keeps our local hospital patients surviving and thriving.
Of course, the day will be filled with fun give-aways and prizes, too. The prizes will be provided by the vendors at the event.
Look for everything from hotels, car dealerships and banks, to beauty consultants and other home-based businesses and some of Fayetteville's newest small businesses, too.
"I love the fact that it is different every year," said Ramirez-Garza. "Every year it brings new challenges and exciting vendors and people. People always want something different and that makes it really fun."
Contact the Fayetteville-Cumberland County Chamber of Commerce at 484-4242 or www.fayettevillencchamber.org for more information.