When is a football team more thanjust a football team providing fans withaction-packed entertainment? When itbecomes a Force in the community —make that a force for the community.
And that's exactly what AndrewBondarowicz, president of the FayettevilleForce, hopes to bring to the Fayettevillearea with the return of indoor footballplay — and the revival of a familiar teamname. The Fayetteville Force, one of 16teams in the Southern Indoor FootballLeague (SIFL), will open its inauguralseason at the Crown Coliseum againstthe Carolina Speed on Friday, March 18.
Bondarowicz, successfulsports agent, lawyer and founder ofFanteractive, LLC, a new subscriptionbasedinteractive system enabling fans totake part in the game from the sidelines,sees the team as a force for good.
"It's kind of funny because theForce name actually has a two-fold recreation,"said Bondarowicz. "One is forthe Fayetteville Force hockey team, andsecondly, there was a team called theForce in the Southern Indoor Football League (SIFL) in Greenville, S.C. And in both ofthose instances, I would say that the situations ended badly; however, the name Forcereally embodies a lot of the things that we wanted to espouse here."
Bondarowicz sees a far more positive future for the Force, and the community."The notion with a lot of sports teams is, 'Hey, we have a team in town. Come supportus and buy tickets,' and that's kind of where the relationship remains, whereas one ofthe things that we want to really try with this team is to be an impact on the community.Being a force in the community, being a force in the classroom, being a force ineverything you do. It's not only a tagline, but it's really a theme around what ourorganization is looking to do."
And the Fayetteville Force is certainly looking to do more than just scoretouchdowns on the field.
"I mentioned about being a force in the community," Bondarowicz said, "and oneof the things we want to do is recognize a lot of unsung heroes. There's a lot of peopledoing a lot of good things every single day and most go unnoticed, and we can kindof use the platform that we have to bring some recognition to those people. Secondly,volunteerism, especially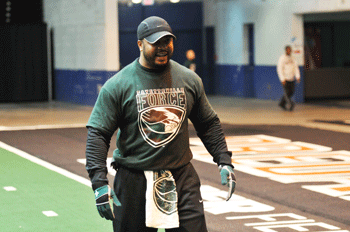 in difficult economic times, is something that's very important,too, because nonprofi ts as much as anybody are stretched with donations going down,and an extra pair of hands always comes in handy. So one of the things we're looking todo later this spring is have fans and friends of the team essentially volunteer for differentorganizations around the city. And not just the city, but in the region to build on thatcommunity aspect and also to lend a hand in need. We have some school programsthat we're working on that we want to establish before the end of the school year. Ourchallenge has been that there's a limit to how much we can accomplish in a very shorttime frame."
In addition to promoting and contributing positive things in the community, theFayetteville Force expects to play the kind of football fans won't want to miss.
"Basically, we expect to put a strong product on the field every week," saidBondarowicz. "We have a veteran coaching staff. We have a lot of players that havea game-established history, and we expect to have a strong showing and make thecommunity proud that way.
"We plan on adding fun events and unique aspects to every game. We kind of lookat each individual game as its own event, so we have six different events that we're goingto be running during the regular season that are built around a football. You can expectsomething different every time, and we hope to have some entertainment, a lot of pregametailgates. We're going to make this a fun atmosphere because one of the uniquethings about football, is that it's part of Americana, and the more entertaining we canmake it, the more engaging we can make it, the better it is for the community at largeand their fan base."
For more information on the Fayetteville Force, includingschedule, team members and coaching staff, Fanteractive and ticketsto the inaugural season's games, as well as sponsorship opportunitiesand more, call 910-920-9200 orvisit www.fayettevilleforce.net.
PHOTO: Fayetteville Force Assistant Head Coach and Defensive Coordinator Charles Gunnings.