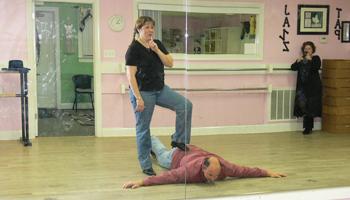 If you are homeless, you have very little to dance about. But on Saturday, April 9, some local Fayetteville celebrities will put on their dancing shoes to help fight homelessness in our community as Dancing With the Fayetteville Stars hits the stage to benefi t the The Center for Economic Empowerment and Development.
Formerly known as the Women's Center, CEED has a hand in providing opportunities to a wide demographic in Fayetteville. This nonprofit organization's mission is to "provide resources and advocacy to individuals and families in order to restore personal dignity for economic empowerment and development."
The Lease-to-Home program, one of the agency's many programs, assists people in transitioning from homelessness to homeownership. The goal is to provide people of all backgrounds the chance to own their own home. This year alone, Lease-to- Home Program has created 60 jobs and helped 40 individuals become home owners. It is this program that will benefit from the dance event.
More than 30 local celebrities will dance to impress the crowd and raise funds for CEED's Lease-to-Home Program.
"We use all the money that we raise, after we pay expenses, to go to renovation of a house. Those houses are then rented to someone with 50 percent or less of the median income," said Sylvia Ray, executive director of CEED. "Once they have been in the house and saved money and gotten their credit straight, they are eligible, to purchase the house. The people we deal with are not ready to buy a house right a way. They need to get a much better credit score so that they can get a much better loan and they can be prepared to be home owners."
Some of the celebrities participating are Bert Hassell, Hope Mills police chief; Bill McMillan, director of the Re-Store Warehouse; Dr. James Anderson, chancellor of Fayetteville State University, Jo Ann Ruff with Dr. J. Michael Ruff, Periodontics & Implants; David McCune, Jr., vice president of McCune Technology; Tim Price, owner of LaFayette Ford; Chris Rey, candidate for mayor of Spring Lake, Liz Tomalesky, co-host of La Voz Presenta at WITN-TV and Andrew Pennink with HomeFront Mortgage.
While the evening promises to be both lively and entertaining, if you are unable to attend you can still help. Go to www.ncceed.org/dance and vote for your favorite celebrity, because just like the Dancing With the Stars TV show, competitors get to stay based on the number of votes they receive. It costs $10 per vote.
On the night of the event, the audience can expect a rip roaring good time filled with dances ranging from ballroom to Broadway, disco to the Carolina Shag.
In addition to supporting a good cause, local support helps the CEED gain credibility with other funding organizations that partner with them in improving the community.
"Other lines of funding like the North Carolina Housing Finance and the city fund our housing projects and they always want to know 'Are you getting private money? Do other people really care about the issue of folks trying to stay off the streets and own affordable housing?' What it says back to those organizations is that yes the people in our local community really do care," said Ray. "They are concerned just as much as we are."
Included in the $125 ticket price is a buffet dinner including wine and beverages. Tickets are tax deductible and may be purchased at www.ncceed.org or by calling 323-3377.
PHOTO: Bill McMillan, of the Re-Store Warehouse is one of the performers in this year's event.