With less than a month to go until the Duck Derby, things are really picking up and Quacky is busier than ever.There have been more than 5,000 duck adoptions so far. Folks have really stepped up to support local charities and at the same time they've got a chance to win one of the four amazing prizes that will be given away to the fastest ducks on May 7 at Campbellton Landing.
Even if you don't win the 2011 Toyota Camry, Las Vegas getaway, the Myrtle Beach escape or the Cape Fear River Cruise, at $5 a duck it is hard to say no to a chance to reach out and help support the local nonprofi ts that will benefi t from the event.
The local restaurants are having a blast as they compete for the title or the best Duck Derby Drink and Appetizer.
"I think it is going really well, all the restaurants are really having fun with it," said Katie Crenshaw, Duck Derby co-chair. "We feature a different restaurant every week on Facebook and the votes are kicking in on the website, so we know people are participating. And honestly, I think some of the restaurants are shocked at how much they are enjoying it. Some of them are already thinking about next year, so that is great news, too."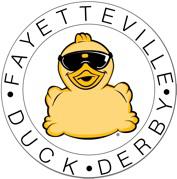 With only a few weeks left to help choose the winners, Crenshaw hopes that people will be out at the restaurants sampling the many dishes and drinks available and then take time to vote for their favorite at www.fayettevilleduckderby.com (where you can also adopt a duck to compete in the derby if you haven't done so yet.) Once a vote is submitted, there will be a chance to see where your favorite restaurant ranks in the competition.
As of this writing the Hilltop House and Latitudes were the favorites.
"Every restaurant is different. Scrub Oaks has put mini ducks on their tables at different events," said Crenshaw. "If you walk into Luigi's they have a feather boa and a little duck hat on their menus, at Chris's Steakhouse they have the big cow with duck derby specials on it. It is really interesting to see how each restaurant is doing this."
Winners of the drink and appetizer competition will be announced at the Duck Derby, but by then it may be too late to get a taste of all of the different concoctions in the competition. Crenshaw is hoping to make the namesake wanna-be's available only during the weeks leading up to the big event each year. The good news is that next year there will be another round of drinks and appetizers to vote on.
Don't forget to adopt a duck (or a few ducks) and then show up at Campbellton Landing on May 7 for the Duck Derby at 1 p.m. While you're there, stay awhile and enjoy live entertainment featuring Suckerpunch, Summerfi eld, Refl ections II, Kidsville Kids, Falcon Children's Choir and Taylor Bridges. There will also be wagon rides, boat rides, a kidzone with face painting, bounce houses, arts and crafts, train rides for the kids and plenty of food and drink vendors to check out, too.
Find out more at www.fayettevilleduckderby.com.
Duck Derby offerings:
Vote for your favorite! Drinks:
Circa 1800; Duck, Duck, Goose
Chris's Steakhouse; What's Good for the Goose Juice
Hilltop House; One Lucky Duck Martini
Huske Hardware House; Get Quacked
IT'Z Enterainment City; The Duck is Happy
Latitude 35; A Duck's Life
Luigi's Italian Restaurant and Bar; Duck L'Orange
Morgan's Chophouse; The Perfect Pear
Pierro's Italian Bistro; Skye Ducktini Riverside Steakhouse; Waddle-tini
Scrub Oaks; All Duck'ed Up Martini
Appetizers
Circa 1800; Get the "Duck" Outta Here
Chris's Steakhouse; Quacky's Crabby Cakes
Hilltop House; Duck Quesadillas
Huske Hardware House; The Quacky Conch Fritters
IT'Z Enterainment City; The Duckster
Latitude 35; Stuffed Plucker
Luigi's Italian Restaurant and Bar; Kalamata Kwackers
Morgan's Chophouse; Apricat Glazed Pork
Pierro's Italian Bistro; Ducktacular Duck Cakes
Riverside Steakhouse; Daffy Q Tacos
Scrub Oaks; SeDUCKtion Pasta