It's that time again. The weather is warm, the Dogwood Festival was a smash hit and the 4th Friday will be here in no time.
If you haven't had a chance to check out the Public Works exhibit at the Arts Council Fayetteville/Cumberland County, the exhibit will hang through June 18. Fayetteville PWC sponsors the event every year, giving the public a chance to showcase their talents in the community.
There are more than 100 pieces of work on display this year, providing a wide variety of work and skill levels. As is custom, the public voted for their favorite pieces and named "Zion Narrows Canyon" by Wick Smith as the first place winner. Stop by and see who else the community favored.
This 4th Friday, enjoy Summer Swing with Gregg Gelb's jazz band from 7-9 p.m. The band was such big hit last year, that they've been invited back to entertain the crowds again.
"He does all the big band music and they have a really great sound. We'll put a dance floor down in the grand hall and we have the Cape Fear Ballroom Dancers and the Swing Dance Heritage Club coming out, too," said Kelvin Culbreath, Arts Council of Fayetteville/Cumberland County director of special events and facility management. "Both of those groups come out and cut the rug, so to speak. In fact, they sometimes are more of the show than the band. They do a really good job of pulling people out of the crowd and getting them out on the floor.
"Outside on Maxwell Street, artists sell and demonstrate their work from 6 to 10 p.m. at Arts Alive. This monthly event celebrates its one-year anniversary in May. In the past, artists have included musicians, basket weavers, painters, potters and glass blowers. It's always an adventure and a nice surprise to see who will show up on Maxwell Street to educate and entertain the crowds.
In partnership with Miller-Motte College, the Downtown Alliance presents Restaurant and Military Appreciation Night this 4th Friday. There will be military discounts offered at several of the restaurants, shops and boutiques downtown. What a great way to say "thank-you" as the community winds up a month of festivities geared at showing the military community how much they mean to the Cumberland County community.
Don't miss Shadows of the Fire on the 300 block of Hay Street. The group will perform a variety of American belly dance styles, which draw inspiration from the dance traditions of many different cultures and countries.
On the 100 block of Hay Street, Musha Dojo will demonstrate Jujitsu, Aikido, Arnis, Kung Fu,and Hapkido. According to the Downtown Alliance website, "They are a unique martial arts center. The North Carolina home of Atemi Ryu Jujitsu has brought together the best martial artists in Fayetteville and built a school where sharing knowledge is the most important thing. We welcome students and teachers from all martial disciplines and have opened our mats to teachers of several m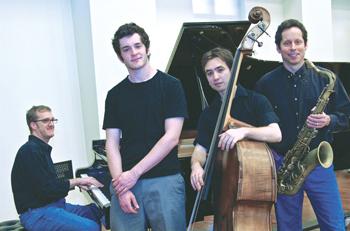 artial disciplines. Represented arts are from Japan, China, Korea and the Philippines."
City Center Gallery and Books offers a new artist or writer at the store each 4th Friday. This month, the book store will feature the photography of professional photographer, Aimee. The works on display will be primarily black and white. Music will be provided by Nic Holliday.
These are just a few of the great events that will be taking place downtown on 4th Friday. Arts Alive is from 6-9 p.m. on Maxwell Street and the rest of downtown begins the celebration at 7 p.m. For more information, visit www.theartscouncil.com or www.fayettevillealliance.com.
Photo: Enjoy Summer Swing at 4th Friday with Gregg Gelg's jazz band.