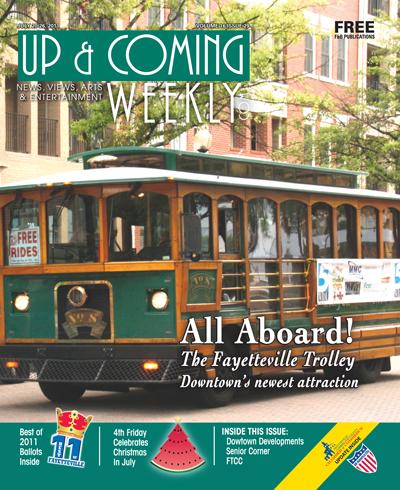 It's taken a few years, countless man-hours and the dedication of many in our community to turn Fayetteville from Fayettenam into a three-time winner of the All-America City award. Fayetteville's Downtown has come a long way. In fact, check out just one of the many downtown events like Fayetteville After 5, the Dogwood Festival, 4th Friday, the International Folk Festival or even the random afternoon stroll and it's clear that downtown is a great place to spend time.
As the synergy grows, new activities and businesses are drawn to downtown every month, which in turn brings more people looking to shop, dine and be entertained. One of the newest members of this dynamic community is the WRAL Downtown Fayetteville Trolley.
In four short months, the trolley has grown from an idea to a team member among the various groups that work together to continually improve and build on the successes that Fayetteville has fought so hard to achieve and maintain. So the concept that started with the question "What can we do to make Fayetteville better?" is now seen at local events, festivals and special occasions like the N.C. Veterans Park opening.
An entity unto itself, the WRAL Downtown Fayetteville Trolley is open to working with any organization that seeks to show off the many attributes that downtown has to offer.
Currently, the trolley roams downtown on various routes, depending on the event (think Fayetteville After 5 and 4th Friday) and street closures. It winds its way up Haymount Hill providing residents an alternative to driving downtown.
Many of the downtown merchant sponsors provide discounts and gifts that are packaged in eco-friendly bags that have become a valuable commodity.
"I think it is a fantastic addition to downtown, especially for our special events," said Downtown Development Manager Jamie McLaughlin. "It has created such a buzz. People have come downtown just to ride the trolley, and all of a sudden they are introduced to our great downtown shops and restaurants. I think it is a fantastic way to get to know downtown. On one trolley ride, people get a tour of downtown while they are enjoying being downtown."
The Fayetteville Area Transportation and Local History Museum has joined with the WRAL Downtown Fayetteville Trolley to bring historical tours to the public.
"We have developed initially, three tours that we will use the trolley for," said Historic Properties Manager Bruce Dawes. "One is a general historic tour of downtown Fayetteville, and it will take in a number of historical sites that we will travel by on the trolley. Some of those sites will be a ride-by and some will be an opportunity to get off the trolley and perhaps go inside different historical buildings."
There is a separate church tour as well. The church tour takes in the six nationally registered historic district churches downtown, and again, some of those will be ride-bys and some at some of the churches, the passengers will go in and take a look around.
The last tour is a military tour which talks about the history of the Fayetteville community as a military community predating Fort Bragg, going back to the time of the Revolution and Liberty Point and taking it up to the present day.
Large groups (20 or more) are also invited to contact the museum and create their own tour.
"If there is a particular group that is interested in a historic era or event, we can do that," said Dawes. "As a local museum we have a lot of access to information that we can use to create individual tours. The weather now is brutal to be walking around and the trolley would give groups a chance to have access to an air-conditioned vehicle and still be able to see the sights."
Trolley Spokesman and Lead Manager Mark Henderson, is excited about the warm reception the trolley has received so far and has big plans for meeting the needs of the community as opportunities arise.
"My hopes are for the trolley to become the singular attraction that encourages many others to help and to think outside of the box in creating activities for downtown," said Henderson. "We have
a unique downtown and we should use every opportunity to capitalize on that fact. We have already booked our first tour, a combo downtown/historical tour for a family reunion group. We are working with a unit at Fort Bragg to transport them to a social from Fort Bragg to the Botanical Garden. We are well on our way to becoming a downtown staple. We hope to have our Website up very soon that will have predetermined routes and times, becoming a lot more predictable."
If you are interested in booking a tour, or to find out more information, give the trolley office a call at (800) 779-8827.
Photo: Currently, the trolley roams downtown on various routes, depending on the event and street closures.