Those of us who were around in April 2011 may never forget the scenes of devastation from the tornadoes that ripped through Fayetteville and the surrounding areas. Power lines were down, businesses were torn apart and homes were destroyed in an instant. Most of us watched the news reports wondering what we could do to help.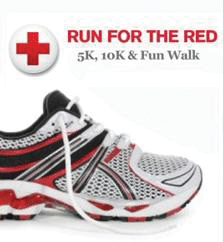 We never know when the next disaster will affect our community, or even just a single individual. What we do know is that when disaster strikes, the American Red Cross will be there to help.
Ironically, the time to help disaster victims is now while things are calm. The Red Cross, a 97 percent volunteer-based organization, hosts three major fundraisers a year to fulfill its mission to "provide relief to victims of disasters and help people prevent, prepare for and respond to emergencies." Funded primarily from individual charitable donations and campaigns such as the United Way and the Combined Federal Campaign, the Red Cross also relies heavily on these fundraisers to be prepared when disaster strikes.
On Saturday, Aug. 4, the Highlands Chapter of the American Red Cross will host its sixth annual Run for the Red in Festival Park. Activities start at 7 a.m. with a 10k race, followed by a 5K race. The event fi nishes up with a 1-Mile Fun Walk/Run at 8:30 a.m. The American Red Cross will host a variety of preparedness activities on site, so be sure to bring the whole family.
"We will have our trained staff members on site to help your family make a fi re plan, learn how to make a disaster kit and prepare for all types of emergencies," says Executive Director Victoria Raleigh. "We will have coloring books for the kids; and a variety of educational information available free of charge."
Cash prizes will be awarded for the top three finishers for both men and women in the 10K and 5K races. Top three medals will be awarded in both men's and women's groups by age group. For participants of the 1-Mile Fun Walk/Run, medals will be given to all children who participate. Strollers are welcome for this event, as it is a family event for all ages — you can walk or run! However, iPods are not allowed for the 10K or 5K races.
Don't forget your military unit. There will be a "giant trophy" and bragging rights for the military unit with the largest number of participants.
"Last year 3rd Brigade Combat Team won, but with more than 10 battalions signed up this year they have quite a bit of competition," said Raleigh. "If you don't see your military unit listed on the website, simply call us and we will add it to the list."
Packet pick-up is Aug. 3, from 4 to 6 p.m. at the American Red Cross Highlands Chapter at 807 Carol St. Packet pick-up on race day and registration starts at 5:30 a.m. in Festival Park.
Says Raleigh, "By simply lacing up your running (or walking) shoes on Aug. 4, you can give back to an organization that has touched one out of every 10 individuals in our local area."
The first 750 registered will receive a T-shirt at packet pickup. The goal for this year is 1,000 participants. Registration for the 10K race is $30, the 5K race is $25 and registration for the 1 Mile Fun/Walk is just $5 per individual. Online registration is recommended and will close on Aug. 1. Registration on the day of the event for the 10K and 5K races will be $5 more. All military ID card holders or groups of 10 or more will receive a $5 discount off the registration fees. Be sure to call 910-867-8151 to get the discount code before you register.
For more information or to register, visit www.highlandsarc.org or call 910-867-8151.