With the 2012 season nearing its end, the Fayetteville SwampDogs are as busy as ever.
On Sunday, July 15, fans and players teamed up for the 2012 Bowl for Charity event at B&B Lanes, where proceeds went directly to the Wounded Warrior Project.
Wells Fargo Home Mortgage joined the lineup, assisting with the successful afternoon that saw countless participants win terrific prizes donated by a number of generous companies.
Fans were teamed with SwampDogs players over the course of two different sessions, as the various groups bowled. The team with the highest score at the conclusion of each session was awarded a prize, and all the money raised through registration and raffle prizes was donated to the Wounded Warrior Project.
Saturday, July 21 was yet another important day at "The Swamp," as the Dogs' Pancake Breakfast, Guns N Hoses softball game, and Striking Out Cancer Night all transpired over the course of the day.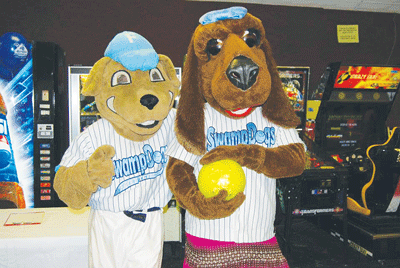 The pancake breakfast gave fans a chance to eat breakfast with SwampDogs players, with all the money raised donated to the Wounded Warrior Project once again. Fans had their fill of the all-you-can-eat selection of pancakes, eggs and sausage, and spent a Saturday morning with the Dogs.
The Fayetteville Fire Department and Police Department squared off for the third annual Guns N Hoses softball game later that afternoon, as family and friends watched their loved ones compete on the playing field at J.P. Riddle Stadium, with proceeds benefi tting the two departments.
The night was capped off by the team's sixth annual Striking Out Cancer Night, presented by Cape Fear Valley Health System. Fans bid on special pink jerseys worn by the players during the contest, as the highest bidders received the game-worn jersey, while the runner-up was provided a replica. The money raised was donated to the Cape Fear Valley Health Foundations' Friends of the Cancer Center, as a select group of SwampDogs' faithful were awarded a piece of team history.
With limited games remaining in the season, the SwampDogs remind fans that Fan Appreciation Night is fast approaching. The final regular season game will be followed by the final fireworks extravaganza of the summer. Fans can win giveaways and prizes all night long.
There are three games left in th season; July 25; July 31; and Aug. 2 Find out more at www.goswampdogs.com.
Photo: The SwampDogs recently hosted a bowling tournament to benefit the Wounded Warrior Project. Other agencies supported by the SwampDogs include the Fayetteville Police and Fire Departments, and the Cape Fear Valley Health Foundation.