If you've never been to the Duck Derby, this year's event is something you won't want to miss. It is with great excitement that Fayetteville Urban Ministry and Rick Hendrick Toyota Scion present the 3rd Annual Fayetteville Duck Derby.
The event takes place at Campbellton Landing on May 4. Located on the banks of the Cape Fear River, with shade trees and plenty of space to run and play, Campbellton Landing is the perfect place for such a community-centered event.
The Duck Derby promises to be a day filled with fun and excitement. From noon to 5 p.m., Fayetteville Urban Ministry and Rick Hendrick Toyota Scion will host this family-friendly festival that includes free admission and kid-friendly attractions like boat rides, train rides, craft stations, local merchandise, food vendors, live entertainment and a Kids' Zone with lots of fun. The whole family can enjoy live music, dancing, the Duck Derby Hat Contest and a high school drum-line competition. While entrance to the Duck Derby is free, there will be food available for purchase and activities that cost money, so plan accordingly.
There will also be activity and information booths sponsored by more than 30 local non-profits. The content at the booths promises to engage, entertain and empower citizens of all ages. People will have a chance to learn about many of the organizations in the community that work to help make Cumberland County a better place.
While there is plenty to do all day long, the main event of the day is the actual duck races, and these take place later in the afternoon.
The first duck race features large rubber ducks that have been adopted by local businesses and organizations. A representative from each business will throw their duck into the river. This is a great way for local businesses to support the work of Fayetteville Urban Ministry as well as the community.
The main duck race will require more than people throwing rubber ducks off the bridge. This one involves dump trucks dropping more than 15,000 ducks into the Cape Fear River. It's thrilling to watch, and even more exciting when you have a duck in the race. The grand-prize winner will receive a Toyota Scion xD. Other prizes include a bedroom suite from Restore Warehouse, a 60' TV and a Cape Fear River cruise.
Each and every duck that floats down the river will benefit one of the local nonprofits that are participating in the event. Some of the organizations include the Fayetteville Urban Ministry, Special Olympics Cumberland County, Fayetteville Animal Protection Society, Child Advocacy Center, Cumberland County 4-H, Great Oak Youth Development Center, Camp Dixie, Unchained Cumberland County, The Haven Friends for Life, CONTACT of Fayetteville, Visions Resource Center, Cumberland Disaster and Recovery, Myrover-Reese Fellowship Homes, Better Health, American Red Cross, Dance Theatre of Fayetteville, Falcon Children's Home, Partnership for Children, Cumberland County Communicare, Rockfish Camp and Retreat Center, Kids Peace, Enlighten the World Ministries, Fascinate-U Museum, Mount Carmel Pentecostal Holiness Church, Second Harvest Food Bank, Cape Fear Heroes, CEED, Fayetteville Family Justice Center, Fayetteville Symphony Orchestra, Gilbert Theater, Give an Hour Community Blueprint, Karen Chandler Trust and TIGAPA Village Foundation.
With so many worthy causes to support, there is something for everyone when it comes time to adopt a duck. In fact, many participating organizations are hoping that people will adopt several ducks and support more than one cause on derby day.
Last year this event raised about $48,000, according to Johnny Wilson, Fayetteville Urban Ministry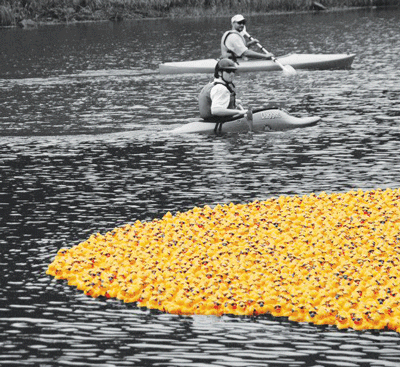 executive director.
In addition to making sure everyone has a good time, one of the things that Wilson loves best is watching everyone enjoy themselves.
"When I get a chance to stop and look around an see the families and people standing there laughing and dancing and having fun, you can see our community connect and it represents what Fayetteville is," said Wilson.
There is yet another fun way to participate in the Duck Derby. In the weeks leading up to the Duck Derby, the community is invited to participate in the appetizer and drink competition that is taking place among nine local restaurants. Visit Chris's Open Hearth Steakhouse, Circa 1800 Restaurant & Bar, Hilltop House, Huske Hardware House Restaurant & Brewery, IT'Z Entertainment City, Luigi's Italian Restaurant & Bar, Marquis Market, Morgan's Chop House or The Wing Company and sample an appetizer or cocktail (specially concocted for the Duck Derby) and then visit www.duckrace.com and vote for your favorite. The competition has ended, and the winner will be announced at the Duck Derby and has bragging rights for a year.
There is still time for grown-ups to adopt a duck. It costs $5. Just go to www.duckrace.com and click on the adopt a duck tab.
Photo: Volunteers retrieve the ducks from the Cape Fear River after last year's race.Cover photo credit: Rick Hendrick Toyota Scion and Fayetteville Urban Ministry presents Fayetteville Duck Derby 2013.