For many around the world, Armed Forces Day is a time to come together and thank military members for their patriotic service. In honor of this special day, the Army's Army, a nationally recognized 501 (c)(3) nonprofit organization made up of citizens and businesses who have pledged their support to those in the military, will partner with Cross Creek Cycling Club (C4) to host the 2013 Ride To Honor.
The Army's Army has proudly been supporting our troops for more than fi ve years and is truly dedicated to honoring and recognizing our brave servicemen and women. Providing various types of military support through programs such as relocation fairs and events geared towards soldiers, veterans and their families, the Army's Army is committed to "watching over those who watch over us."
Now in its second year, Ride To Honor is a 34- and 61-mile bicycle ride that raises funds to support the Army's Army. Hosted in collaboration with Cross Creek Cycling Club, the ride will lead participants along a scenic route traversing Cumberland, Lee and Harnett counties.
Featuring rest stops that are sponsored by Flat Branch Fire Department and Spring Hill United Methodist Church, bikers will have the opportunity to grab a snack and take a moment to breathe while excited volunteers cheer them on.
Opening ceremonies for this year's Ride To Honor will begin at 8:30 a.m., on Saturday, May 18 at Mendoza Park in Spring Lake. Long-time partners of the Army's Army, the Cumberland Oratorio Singers, will kick off the ceremony with the "National Anthem", followed by remarks from special guest John Meroski, CEO of the Fayetteville Area Convention & Visitors Bureau and Chairman of the Army's Army. The American Legion Auxiliary will also be on site serving breakfast to cyclists and spectators.
The Combat Vets Association and the American Legion Riders, in conjunction with the Spring Lake Police Department and Harnett County Sheriff's Department, will also be on hand to escort the cyclists throughout the day. After completing the tri-county trek, race participants will be welcomed back to Mendoza Park and enjoy post-race activities and refreshments provided by Army's Army partner, Sonic.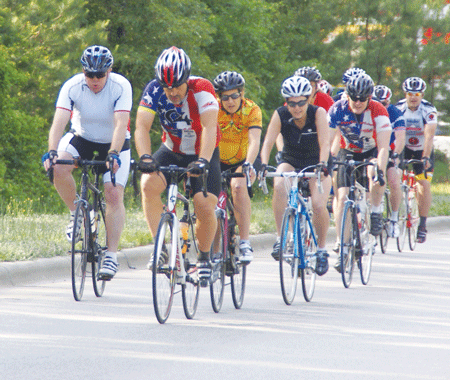 The registration fee for riders is $45; Wounded Warriors and children under the age of 13 are invited to ride for free. To register for the Ride To Honor, visit www.active.com/cycling/spring-lake-nc/ride-to-honor-2013 or check out the Ride To Honor Facebook page for more information.
Ride To Honor is part of 31-Day Salute, a month-long celebration of performances, exhibits and activities throughout Cumberland County that show appreciation, respect and support for those who serve and have served in the military.
In addition to participating in Ride To Honor, many C4 members, which include both active duty and retired military, volunteer and compete in several other community and charitable events throughout the year, including the Ride to Recovery, the Wounded Warrior ride on Fort Bragg and countless other rides across the Southeast United States. The club also participates in various non-ride activities that support the community, including Operation Spin Cycle, which assists wounded soldiers in the Warrior Transition Battalion on Fort Bragg.
Photo: Ride To Honor is a 34- and 61-mile bicycle ride that raises funds to support the Army's Army.