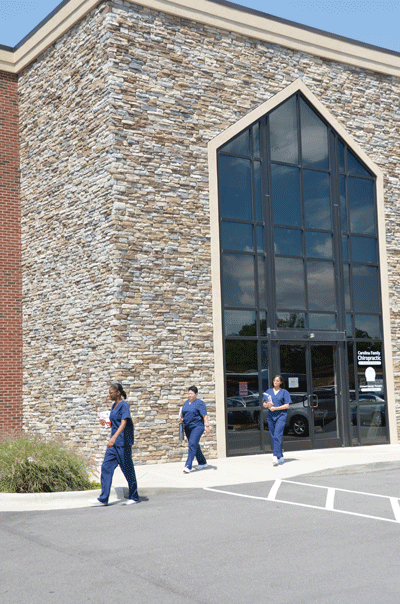 Location, location, location! Fayetteville Technical Community College's newest Cliffdale Park campus opened its doors in January, bringing "My Community College" to your neighborhood.
Nestled amidst residential and business areas on the corner of Reilly and Cliffdale Roads, CDPK is convenient to Fort Bragg, Western Cumberland County and established city bus routes. Hundreds of students have already flocked to the new building for in-demand programs including Certified Nursing Assistant, Registered Medical Assistant, Phlebotomy, Emergency Medical Technician-Basic, Emergency Medical Technician, Paramedic and EKG Monitor Technician courses. These continuing education courses are designed for new high school graduates as well as working or returning adult students and have flexible schedules and reasonable tuition. In fact, students from neighboring states come to North Carolina to take advantage of these courses.
With 12 classes currently running, local businesses are enjoying the foot traffic from the morning, afternoon, evening, weekend and all-day students. Some courses even have a preregistration website where students can avoid long lines and save a seat in the class in which they wish to enroll. CNA and phlebotomy students can begin their journey by going to www.ftccpass.com where they can view upcoming course schedules, locations and registration information, as well as helpful details about MyCAA, a program that aids with tuition for eligible military spouses. Most of these programs have a clinical component, where students get valuable hands-on training in their field, and many are offered jobs while still finishing up their classes. With two new hospitals opening soon, there is a high demand for trained employees.
Have you been thinking about a career change? Now, with this new location and training in employment fields that are in high demand, this may be the season for you to take that first step at FTCC. Learn more by visiting our website at faytechcc.edu or stop by our 2201 Hull Road campus to learn more about the many programs offered by FTCC's Continuing Education division. FTCC offers affordable, high-quality education at locations convenient to you. Make plans to visit FTCC soon to learn how we can help fulfill your educational needs!
Photo: FTCC recently opened a campus in west Fayetteville at Cliffdale Park.