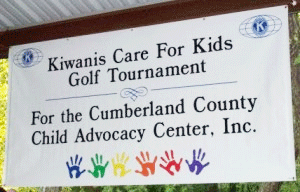 The fact that child abuse exists at all is sad, and the fact that it exists right here in Fayetteville is sadder still. For years, the Child Advocacy Center has been working to change this by helping children heal after they have experienced abuse. The Fayetteville Kiwanis Club has also taken action against abuse by supporting the Child Advocacy Center with the annual Kiwanis Care for Kids Golf Tournament, which helps to raise money for the charity.
The Kiwanis Club has hosted charity golf tournaments for many years. In the past, all proceeds went to local charities as well as the Duke Children's Hospital. It is only recently that the club decided to focus its efforts more locally.
"We have been donating to the Child Advocacy Center for the past six years. Last year we gave them more than $19,000," Jason Poole a co-chair for the tournament explained. "All of the money stays local and goes to one of the best charities in town. They are a great charity and there is a huge need for them in Fayetteville, due to all the child abuse that we have here."
Though the primary reason for this golf tournament is to support a great cause, it will also be a great time.
"A good time, and hopefully good weather. We usually sell out on golfers, so there about 128 golfers on the course. Good prizes for everyone and a great dinner afterwards. The dinner is provided by one of our sponsors, The Barbeque Hut, and they always provide a good dinner," Poole said.
This is a great opportunity for the community to come together in support of the area's children in need.
There are many different ways for individuals, as well as corporations to get involved in supporting the Child Advocacy Center and Fayetteville's children other than golfing. There are hole signs (these are professionally-made golf hole-signs with logos and/or print that are located at tee box at the course) available for purchase, prizes can be donated for the raffle, money for prizes can be donated and there are varying levels of sponsorship that anyone can purchase.
The Child Advocacy Center also accepts direct donations on its website: www.childadvocacycenter.com/2013/08/donate-now. Additionally, corporate sponsors are also welcome. In fact, Poole said that the biggest challenge in the tournament is "finding corporate sponsors so we can give as much as we can to the Child Advocacy Center."
The golf tournament is being held on Thursday, Sept. 26. Check-in time is from 11:30 a.m. until noon, and the shotgun start is at 12:30 p.m. The tournament is at Cypress Lakes Golf Course, 2126 Cypress Lakes Rd. Cost for an individual player is $100 or $475 for a team of four. All proceeds go to the Child Advocacy Center, which also accepts direct donations.
For more information on registration and sponsorship go to www.childadvocacycenter.com.
Photo: The Kiwanis Care for Kids Golf Tournament raises funds to help the Child Advocacy Center