There is a reason that the Holly Day Fair is a family tradition for many in Fayetteville and beyond – many reasons actually. There is the great selection of unique gifts, spending the day with friends and family and the fact that this nationally known event helps the community. Last year the Holly Day Fair netted more than $272,000 and this year organizers hope to top that number.
For three wonderful days - Nov. 7-10 - The Junior League of Fayetteville will host the 47th Annual Holly Day Fair. With more than 180 vendors from as far away as Maine, Washington, Louisiana, Wisconsin and Texas there will be plenty to choose from whether you are looking for a stocking stuffer, a gift for someone special or a treat for yourself.
"We are known nationwide," said Anna Haley, Holly Day Fair chair. "This year we were lucky enough to have more than 400 vendor applications from around the country; we had the difficult task of choosing thebest vendors."
For first-timers the event can be a little crazy if they don't know what to expect, but more often than not, it just takes one trip to the Holly Day Fair for shoppers to get hooked and come back again year after year. After so many years hosting this shopping extravaganza and perfecting the layout and organization of the Holly Day Fair, the members of The Junior League have the set up down to a science. While it does get crowded, the space is well-organized with plenty of volunteers to help direct visitors in the right direction. Haley said that it takes about 115 volunteers working the event to keep things running so smoothly. That includes helping shoppers find their favorite booths and doing what they can to support the vendors.
"One of the big things I enjoy about the Holly Day Fair is that this is a holiday tradition for much of the community. So many people who come bring their friends and family members with them to kick off the holiday season. Once people come to the Holly Day Fair, they usually come back each year. We have so many friends who have been coming for years and years," she said.
There will be many favorites; the tried-and-true vendors that holiday shoppers look forward to seeing at every Holly Day Fair, as well as several new booths. The offerings include everything from flavored honey, flavored balsamic vinegars, food vendors, kid's clothes and the latest fashions and accessories for adults, kitchen and household items, toys, as well as interesting and entertaining items for men - including many things for sports fans.
"The Holly Day Fair is a great place to kick off your holiday shopping," said Hayley.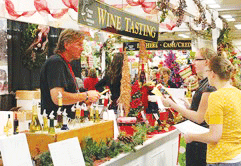 To make a great event even better, the Junior League added a little something to the mix.
"One of the new and interesting things we are doing this year is on Sunday," she said. "From 12-3 p.m., we are bringing out Santa. Families can get a picture with Santa and we will print them out right there so you will have pictures ready for Christmas cards."
For years the Junior League of Fayetteville has offered gift wrapping at the Holly Day Fair, this year is no exception, but the group is kicking it up a notch.
"This year we decided we would rather bring in a pro for wrapping," said Hayley. "We are bringing in Under Wraps to wrap for us. They have everything you could imagine in the gift wrap world – amazing wrapping paper, bags, boxes and trimmings that are just incredible."
What started as a craft show featuring only handmade goods 47 years ago has grown to fill the Crown Expo Center for several days each year. Since its inception, the Holly Day Fair has made more than $4 million that The Junior League has generously reinvested in the community. The organization currently focuses on child mental health. In collaboration with several agencies, The Junior League of Fayetteville helped form the Child Mental Health Advisory Board. This year The Junior League of Fayetteville is delighted to announce NC CEED (Center for Economic. Empowerment and Development) as the event's sponsor. NC CEED started in 1990 as the Women's Business Center, an organization that collected information about services within the community and connected people with the services that would most help them. CEED's mission is to promote the growth, productivity and well-being through counseling, education, information and advocacy programs.
The Holly Day Fair opens on Nov. 7 from 9 a.m. to noon for Super Shopper hours, a time when no strollers are allowed. Super Shoppers pay just $14 to get in and get first peek at all the awesome deals and unique items available. Regular ticketholders pay $9 and are welcome from noon – 8 p.m. On Friday, Nov. 8, the Holly Day Fair runs from 9 a.m. to 8 p.m. Saturday, Nov. 9, shopping hours are 9 a.m. – 8 p.m. Sunday, shoppers are welcome from 11 a.m. to 5 p.m. Find out more about the Holly Day Fair at www.hollydayfair.com. Tickets are available at Ticketmaster and can also be purchased at the door.STEPHANIE CRIDER, Editor,
Photo top right: Vendors offer everything from food and beverages to decorations to clothes, toys and more.