Motorcyclists and car enthusiasts know it is spring because it is time for Fayetteville's Annual Hogs and Rags rally. Hogs and Rags has become a staple event for motorcycle and car lovers from across the state. For those who are not familiar with this event, it is a sanctioned Fayetteville Dogwood Festival event and raises money for local charities. Each year, hundreds of motorcycles, classic cars, convertibles, Jeeps and anyone who just wants to drive descend on downtown Fayetteville for a day of fellowship, fun, food and riding.
This year's proceeds will go to the American Cancer Society, the Green Beret Foundation and the Kidsville News Literacy and Education Foundation. Also, the Hogs and Rags committee will donate $1,000 to the Cumberland County Sheriff's Office K-9 Memorial fund.
This year's event is on Saturday, April 26. The event will begin at the Airborne and Special Operations Museum at 7:30 a.m. City of Fayetteville Mayor, Nat Robertson, will lead the ride and is the Grand Marshall of the event.
Various police departments provide a police escort the entire way from Fayetteville to Myrtle Beach, S.C. There are several stops planned along the way. The first stop is at the Rocking A Ranch for a big breakfast and door prizes. The group will then head out to the Horry County State Bank at the South Carolina border for a water break and to allow riders who want to take off their helmets to do so. Then it's off to Landry's Seafood Restaurant at Broadway at the Beach in Myrtle Beach for a great lunch and the raffle drawings.
This year, Ray Price Motorsports of Fayetteville is the premiere sponsor. First Pawn of 3056 North Main Street in Hope Mills has graciously donated for a raffle. There is also a raffle for $2,500 cash. This raffle has turned out to be like a TV game show where five tickets are drawn and those five people decide if they want to split the money or play their luck.
This year there is a pre-ride welcome party Friday night, April 25, at Speakeasy's Lounge located at 3986 Sycamore Dairy Road in Fayetteville. This event will start at 8 p.m.
This is the ninth year for the event. The event was started by Gardner Altman in 2005 and has gotten better each year. Over the years, the event has raised hundreds of thousands of dollars for various organizations. The event is planned in such a way that you get two meals, a good riding pace, cover two states, a Hogs and Rags T-shirt and still be back in time to enjoy the Dogwood Festival.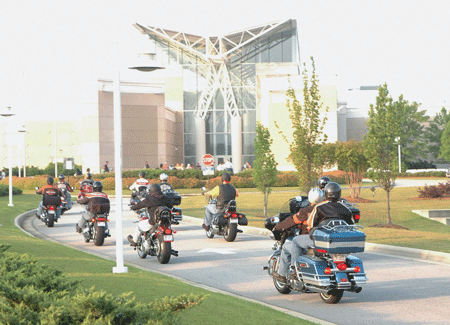 If you are not familiar with the Kidsville News Literacy and Education Foundation, it is a great resource that puts a newspaper into the hands of each teacher and student from kindergarten to the sixth grade. Not only does Kidsville News! do a wonderful job helping parents, teachers and the children with education and reading abilities, the company is very involved with the kids and works hard to bring the best out of each student here. Check them out at www.kidsvillenews.com or you can pick up their publications at various locations around town.
Fort Bragg is the home of Special Forces. Special Forces Soldiers are known as the "Green Berets." In 1961, President John F. Kennedy authorized a small unconventional unit, the Green Beret, because he believed that their special mission deserved special recognition. In 1962, President Kennedy called the green beret "a symbol of excellence, a badge of courage, a mark of distinction in the fight for freedom". The Green Beret Foundation provides unconventional resources to facilitate the special needs for wounded, ill, and injured Special Forces Soldiers and their families. They provide support to the Special Forces community in order to help the Soldiers and their families uphold the Green Beret traditions and values when they need help. To see more about this great organization please visit them at www.thegreenberetfoundation.org.
The American Cancer Society provides researchers and health professionals to explore all avenues to stop cancer.
This event is a win/win event for everyone involved. Although the event benefits local charities it is really about our community and the people that these great organizations touch.
The ride costs $50 per entry and $30 per additional passengers. This price covers both meals and a T-Shirt. The Mayor is leading the ride and leaving the Airborne Special Operations Museum at 9 a.m., so come with a full tank of gas and an empty stomach and help make this the best ride of the year.
For more information, you can go to www.hogsandrags.com or call Wendy at 910-818-0458.
Photo Riders assemble at the Airborne & Special Operations Museum for the Hogs and Rags ride.