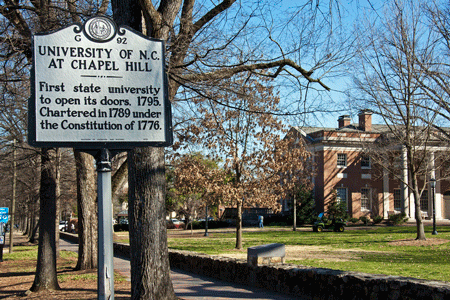 The Carolina Student Transfer Excellence Program, housed in the office of Undergraduate Admissions at the University of North Carolina at Chapel Hill, seeks to admit, identify, enroll and graduate high-achieving, low-to-moderate-income students transferring to Carolina from partnering community colleges.
Fayetteville Technical Community College became a partner college with UNC-Chapel Hill in the spring of 2011, and since that time, FTCC has had eight students matriculate. This year, the program will have its largest number of students entering class for the fall of 2015 with 15 students.
"I now feel more confident in my abilities to succeed at Chapel Hill because the C-STEP program has prepared me for the transition," stated upcoming Radiologic Science major De'Quadre Hart. "C-STEP has given me the opportunity to grow as an individual, to grow academically, and to form new bonds with my cohort group. I have come a long way."
The program holistically reviews potential candidates and consistently challenges students to put forth their best efforts to complete their two-year asociate of arts or associate of science degree, while maintaining at least a 3.0 grade point average. The majority of FTCC C-STEP students maintain at least a 3.5 GPA. Current C-STEP student Joseph Espinoza offers his views on how to be successful through the C-STEP program: "You have to give up something to get something in return, and you also have to stay on top of your grades. C-STEP is a lot of hard work, but I absolutely love it! I consider the C-STEP group members to be a part of my family, and we are not just one — we are a cohesive unit. And the experience is not just educational. It's emotional — in and out of school — and the support the program gives you is amazing."
"Attending UNC-Chapel Hill will be a testament to my dedication to school, the hard work to stay in the program, and how far I have come," stated C-STEP student Brandon Perez. "I think about my mom and my family, and this is my chance for my mom to be proud of my accomplishments."
According to C-STEP student Erik Carlos II, "C-STEP has given me a more positive attitude and an opportunity to grow as an individual. I have more pronounced self-confidence, and I now look forward to the new opportunities and challenges that UNC-Chapel Hill will offer me. This program has given me direction and a clearer perspective on life. I'm moving forward — progressing — and I now know where I am going."
C-STEP currently serves more than 400 students, and more than 200 of those students have already enrolled at Carolina. Interested candidates seeking more information about the C-STEP program should contact L. J. Nelson at FTCC [(910) 678-8205 or nelsonl@faytechcc.edu].
Stop by the FTCC Campus in Fayetteville or Spring Lake or visit the FTCC office at the Bragg Training & Education Center for a face-to-face tour! Visit our website, faytechcc.edu, to learn more about how FTCC can change your life in positive ways.