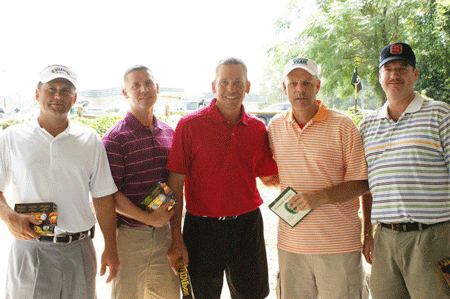 The 11th Annual Ryan Patrick Kishbaugh Memorial Golf Tournament to benefit the Carpe Diem Foundation will take place on July 26 at Gates Four Golf & Country Club.
The event is held in memory of Ryan Patrick Kishbaugh, a Fayetteville teen who fought a brave 18-month battle with Hodgkin's Lymphoma. In 2003, Kishbaugh died at the age of 18 after complications from a bone marrow transplant. Kishbaugh excelled in everything he participated in, including sports and academics. He played varsity-level basketball and soccer. He graduated second in his class and was accepted to Princeton University. He also received the 2001 Governor's Award for Outstanding Volunteer Service.
The Carpe Diem Foundation's mission is to help provide college scholarship assistance to student athletes with chronic medical conditions; support other charitable organizations including the Leukemia & Lymphoma Society; promote and help fund education and research for the treatment of chronic illnesses; and work in partnership with other organizations in the community to meet the Carpe Diem Foundation's mission and goals.
The tournament began as family and friends celebrating Kishbaugh's birthday by playing a round of golf. From this, the event was born and has grown into the fundraiser it is today. Now in its 11th year, organizers are hoping for the largest turnout yet.
The Fayetteville Academy Class of 2002 will host a pre-tournament party Friday evening at Gates Four. The party is a celebration of Kishbaugh's 30th birthday. The event will feature entertainment, plenty of appetizers and a cash bar. Preregistration is required for Friday night on the website or by contacting Ellen Brooks at brooksel@mindspring.com. Tickets for the Friday night celebration are $30 per person.
The tournament follows a Captain's Choice format and features breakfast snacks, a driving range, player gift bags, contests and prizes, beverages, lunch and an award ceremony. Each registered golfer will receive a one-year subscription to Golf Digest. Individual golfer registration is $75, while foursomes can register for $300.
The event is sponsored by the RPK Center, Systel Business Equipment, Advanced Physical Therapy Solutions, Cape Fear Valley Health, Fayetteville Academy, Swanson Reality and PNC. Sponsorship opportunities are still available and start at just $100. Donations are also accepted. Volunteer opportunities are also available.
For more information about sponsorship levels and the event, please visit www.2014RPKMemorial.com. Information about the course can be found at www.gatesfour.com.
Photo: Participants in the 2012 RPK Memorial Golf Tournament at the Gates four Golf & Country Club.