Since 1999, the Rotary Clubs of Fayetteville have treated the community to a Christmas parade each December. Calls go out to schools, service organizations, businesses and more and the community comes together to celebrate. On the big day, spectators line the streets to enjoy the many floats, bands and dignitaries as they march through downtown Fayetteville. On Dec. 13, at 11 a.m., the fun begins.
With 100 or so entries, there will be plenty to see at this year's parade. Bands, beauty queens, and civic organizations are just a few of the groups to look for on parade day. Pamela Chan helps with the parade and is looking forward to seeing all the smiling faces as the different floats move through downtown.
"We have a new sponsor this year, Chick-fil-A. We are excited about having their support," said Chan. "There are a lot of marching bands this year, too. There is also a homemade float by Garner United Methodist Church that features a walking nativity scene."
Another group that is a lot of fun is the Sudan Shriners. "A couple of Sudan Suits and Sudan Pirates are participating this year. The suits will be on Segways and the pirates have their own ship."
The theme for the 2014 Rotary Christmas Parade is: The Children of Fayetteville and Cumberla
nd County – our future leaders. While most parades have a Grand Marshall, that is not the case this year. Instead, local youth will share the prestigious role. "We have three floats this year that will have children on them," said Chan. The parade organizers reached out to Cumberland County Schools and asked for a representative from every elementary, middle and high school.
Everyone's favorite elf, Santa, will be there, too.
It's a fun day and a big event but that also means a lot of preparation downtown. Streets will be blocked to accommodate the parade and its many participants. The parade starts on Person Street, goes around the Market House and up Hay Street and ends at the train station. With a little preparation, getting to the parade on time and enjoying the festivities should be a snap. Chan recommends checking the weather ahead of time, dressing appropriately and adding a little extra time to find parking and to accommodate traffic.
The motto of Rotary is "service above self." And that is exactly what this parade is about. It is a community service project that the Rotary Clubs of Fayetteville take on for the sole purpose of bringing Joy to the community. There is no fundraising or ulterior motiv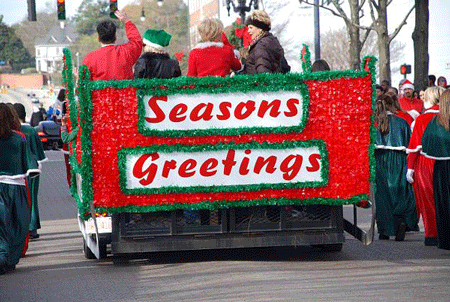 es, just good fun for the community. Currently, there are three Rotary Clubs in Fayetteville with a combined membership of about 120 people. Rotary is an international organization that seeks to "provide humanitarian service, encourage high ethical standards in all vocations and help build goodwill and peace in the world."
This is the perfect time of year to celebrate peace and goodwill. And downtown Fayetteville is a great place to do that. Come enjoy the parade, grab lunch, do some Christmas shopping and check out the local art exhibits.
The Rotary Christmas Parade is set to last about two and a half hours. It starts at 11 a.m. Find out more about the parade at http://www.rotarychristmasparade.com
Photos: Don't miss a chance to see everyone's favorite elf at the 2014 Rotary Christmas Parade in Downtown Fayetteville on Dec. 13.