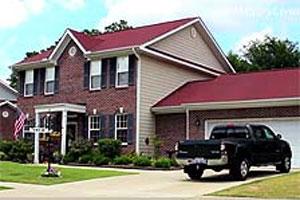 The Army is bolstering housing opportunities for more military families at Fort Bragg. Corvias Military Living says that national Guardsmen and Reservists and their families are now eligible to live on post in certain areas. Until now, these service members could live on post only when on active duty. "The Reservists are already a vital part of the Fort Bragg community," said Col. Karl Schmitkons, Commander of the 440th Airlift Wing. "Affording them the opportunity to live on post helps strengthen and diversify our community and supports those serving our nation," he added. Schmitkons serving as Fort Bragg's spokesman is ironic since his airmen are leaving the area over the next six months because the Air Force reserve unit is being deactivated.
Eligible residents are being encouraged to contact the Corvias leasing center as soon as possible because of limited availability in Bragg's housing communities. Several home types are available to reservists and guardsmen. They include two-, three- and four-bedroom floor plans. Rents will be established at competitive market rates and include utilities, lawn care, 24-hour maintenance, access to Corvias' community centers and pools as well as all other on-post amenities.
"More than 21,144 military members and their families currently live on Fort Bragg in a blend of homes, many of which are new or recently renovated," according to Brandon Masters, Regional Public Affairs Manager for Corvias Military Living. He went on to say "Our top priority is to serve active duty service members with families. When we face challenges in occupying certain homes with active duty service members, we expand our eligibility and fill those homes with other tenants, such as military reservists." Masters went on to say the decision to open eligibility to the additional groups was made to ensure the Army has the ability to reinvest in future home construction, modernization, upgrades and repairs on the installation. Corvias won a 50-year contract to provide Fort Bragg family housing, an agreement which began in 2003.
National Guard members and reservists interested in moving on post should request information from the Corvias leasing center. Applicants from the newly eligible categories will be required to pass credit checks and income requirements. Children of National Guard members and reservists who live on post are not able to attend the installation's Department of Defense Schools, adds Masters.