Since its founding in April of 1988 the Fayetteville Area Habitat for Humanity has built more than 48 houses in Cumberland County. Habitat's mission is to eliminate poverty housing from the world. They believe that every human has a right to decent housin g and work to provide the disadvantaged with places to live.

Currently, Habitat Village is where much of their good work is being done. Homes are being built on land deeded to Fayetteville Area Habitat for Humanity by the City of Fayetteville. While the organization is known on a national level, funds are raised locally and are kept in the community to help citizens in Fayetteville.On Dec. 5, Kings Grant Golf and Country Club and Methodist University are hosting a fundraiser for Habitat for Humanity - the Cumberland Christmas Classic.

"It is a new concept and the mission is to give back to the community," said Rob Pilewski, head golf pro at Kings Grant Golf and County Club. "The overall goal is to raise funds for a house for Habitat. We can say 'Hey, this is for the good of the community - and we can see it right there. We built it.'"

This is just the beginning of what Pilewski and other sponsors hope will become an annual event that folks all over town look forward to and participate in.

"We felt like we wanted to benefit the community, Kings Grant is involved with Methodist University and part of those things is giving back to the community. It is in our mission statements," said Pilewski.
"This is a perfect way to do it. If I could look into the future and could say how I see it down the road, I think it would be great if we could get enough money and if we could get everybody involved from all the community building a house. How great would that be?" he continued.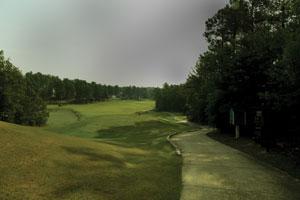 It currently costs almost $45,000 to build a Habitat for Humanity home, not to mention all the volunteer hours required. That's a pretty penny no matter how worthy the cause. Pilewski is confident that it can be done, and he is willing to work toward that end, even if it takes a while.

"Are we going to get there in one year? Maybe not," said Pilewski. "But if we keep banking our funds we will get there - and you've got to start somewhere. I feel like it doesn't matter where you start, it is where you end up. It would be a win-win for everybody. That is our goal and we are excited about it."
The tournament format is an elimination scramble. Pilewski described it in a nutshell as a game where everybody drives, everybody putts and you eliminate a person in between. Along with the interesting format, he also mentioned that there have been several improvements to the course that should make it a great experience for the players. There will also be a silent auction with items like an autographed picture of Peyton Manning, a football from N.C. State, an item or two from the Charlotte Bobcats as well as some national-level donations from various sports teams. Christmas ornaments are a part of the effort too, and can be purchased at Kings Grant Golf & Country Club.

Now through Dec. 5 the course is offering a special on greens fees which will return a portion of the fee to Habitat for Humanity so even if you can't make the tournament, you can still help. While the Christmas Classic officially supports Habitat for Humanity, Pilewski noted that the top three teams will have the option of donating their funds to a local charity of their choice.
Registration is currently open, the fee per golfer is $100, and includes greens fees, cart fees, practice balls, lunch, on-course refreshments and prizes. Sponsorships are still available. The tournament has a 10 a.m. shotgun start. For more information or to register, call Rob Pilewski at 630-1111.