Just because the 4th of July has passed, it doesn't mean there won't still be fireworks in Fayetteville. The Fayetteville SwampDogs are making a hard push towards the playoffs, and now is the best time to get your tickets to see the team live in action at J.P. Riddle Stadium.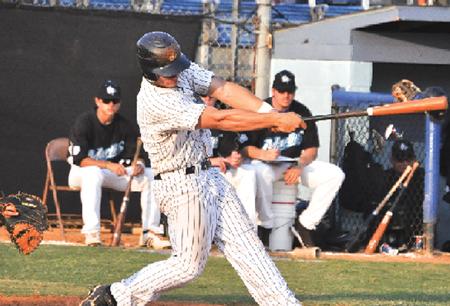 The biggest upcoming nights are just around the corner, including the 2011 CPL All-Star Game, part of the SwampDogs All-Star Summer of Fun. Tickets are limited for the All-Star Fan Fest on Sunday, July 17, as well as the All-Star Game itself on Monday, July 18. The Fan Fest includes a home run derby, as well as the 2nd Annual Guns-N-Hoses charity softball game, pit-ting members of the Fayetteville Police Department against the Fayetteville Fire Department, so don't miss out on a great event full of fun and surprises, and a chance to see the stars of to-morrow, today!
Before that, though, there's plenty of great SwampDogs action to catch at "The Swamp." July 6 is Hospitality Appreciation Night at J.P. Riddle Stadium, as the SwampDogs cater to all of those who cater to us. Everyone working in the hospitality industry will receive a $1 off a general admission ticket to the game against the Wilmington Sharks. It's also Ladies' Night, so all ladies will be able to buy one general admission ticket and get another general admission ticket free!
Then it's time to grab your four-leaf clovers, because the following night, July 7, is Summertime St. Patty's Day! Come celebrate the Luck o' t
he Irish, and the first 500 lucky fans, 21 and over, will receive a pint glass courtesy of Yuengling and Healy Wholesale. It will be a night filled with Irish nicknames, Irish food, Irish music — everything that comes with a tra-ditional Irish celebration! It will also be Fayetteville Observer Night, where fans can come and see the Weekender bug, so grab your green and come to July's best Irish celebration.
On Saturday, July 9, the SwampDogs will host the Morehead City Marlins, and the first 500 fans in attendance will receive a new, insulated lunch bag, presented by Cape Fear Orthopedic. It will also be NC State Night, so wear your Wolfpack gear and receive $1 off a general admission ticket.
Don't miss out on your chance to catch the best base-ball in town, all part of the Fayetteville SwampDogs All-Star Summer of Fun. For more information or to order your tickets, call the SwampDogs office at 426-5900, and we'll see you at "The Swamp!'