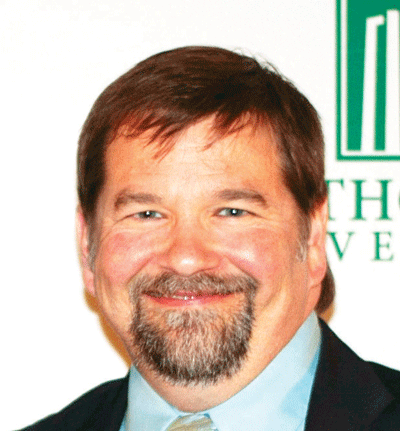 Methodist University President Ben Hancock is proud to announce that Marty V. Cayton has been named the new director of the Center for Entrepreneurship in the Reeves School of Business.
Cayton, a 1990 MU alum-nus, is owner and president of Amerizon, Inc. He will start his new position Monday, July 2. Along with the directorship comes an appointment as an assistant professor of busi-ness administration. Methodist University plans on expanding its educational offerings in en-trepreneurship, taking advantage of a minor in entrepreneurship available to students interested in going into business.
"Methodist University is so pleased to have attracted someone of Marty Cayton's caliber to serve as the new director of the Center for Entrepreneurship," said Dr. Hancock. "His experience as an entrepreneur, knowledge of the center and its programs and commitment to the community make him the ideal person to move the center forward, building upon the suc-cess of long-time director Dr. Sid Gautam."
Gautam, who retired earlier this year, founded the CFE in 1973, with a mission to help entrepreneurs succeed in business. Since then, the CFE has delivered exceptional educational experiences, networking opportunities, and recognition for entrepreneurs, students, small business owners and profes-sionals in Eastern North Carolina.
Cayton has been very active with the center for Entrepreneurship for the last six years and also sits on the advisory board for the CFE. In 2009, the CFE named him Economics and Business Alumnus of the Year, and this year his company won the CFE's American Business Ethics Award.
"We are so fortunate that we found an entrepreneur and successful business executive right here in the Fayetteville community who is prepared to direct the many community programs of the Center for Entrepreneurship and has many new entrepreneurial ideas to enhance the Center's continual growth," said Joe Doll, dean of the Reeves School of Business.
After an enlistment with the U.S. Navy, Cayton started working at his fam-ily's company, North Carolina Communications, in 1988 while he attended Methodist University to earn a bachelor of arts in business. He was promoted to business manager and was responsible for the company's sale in 1995. Cayton joined the new company, Mobex, and ran its Midwest division. After leaving Mobex, he purchased many of the company's acquisitions, including the original family business. These acquisitions became Amerizon Wireless in 2003. Cayton also earned a master's degree in business from Taylor University in 2005.
Cayton is a member of the YMCA Board of Directors in Fayetteville, and he is on the Board of Visitors and the Alumni Board at Methodist University. He and his wife, Joy, and three of their four children — Jed, Jenna, and Jocelyn — are active members at Village Baptist Church, while their oldest son, Jaron, is a junior at Methodist University and an active member at Fayetteville Community Church.
Methodist University is an independent four-year institution of higher education with more than 2,400 students from 41 states and 53 countries. Methodist University offers more than 80 majors and concentrations, 100 clubs and organizations, four master's degree programs and 19 NCAA III intercollegiate sports. For more information, please contact Leslie Emanuel at the Reeves School of Business at 910.630.7047. To learn more about Methodist University, please visit methodist.edu or facebook.com/ourMU-world.
Photo: Marty V. Cayton