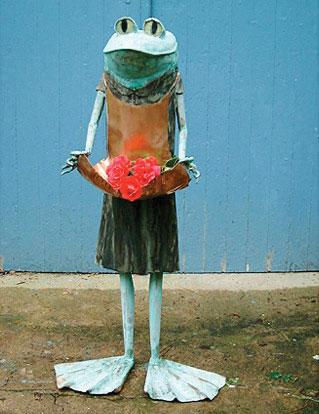 Last year the Cape Fear Botanical Garden was invaded by larger-than-life bugs for several months as the Big Bugs exhibit entertained and educated garden visitors. On Sept. 1, Ribbit the Exhibit opened featuring, you guessed it, frogs — metal frogs that are full of whimsy and wonder and created by Andy Cobb.
These outgoing amphibians aren't hiding under rocks or croaking from the depths of the swamp. They are dancing, watering the garden, mowing the grass and more. The exhibit features 10 to 13 unique sculptures located throughout the garden.
Cobb's frogs are made from fl at sheets of copper that are shaped, textured and welded together around a steel frame so that the sculpture will last for years. When a piece is complete, a patina is added to give it a unique fi nish. Cobb has been working with copper for more than 15 years. One of the things he loves best about working with copper is that "… it moves, it's malleable, it feels like skin."
Cobb usually works on commission, but for this show he stopped taking orders and spent fi ve months working seven-days-a-week to put together this exhibit. It gave him the opportunity to create a few pieces he has wanted to work on for a while.
"The three musicians were a lot of fun for me," said Cobb. "I think I captured what I was looking for, which is passion. They are right in the middle of playing and they are having quite a time."
The other two are a frog version of Fred Astaire and Ginger Rogers dancing.
"He is in tails and she is in a little dress, and they are going full swing," said Cobb. "Those are five frogs that I have wanted to do for a while and I was able to do them for this exhibit."
Cobb explained that while many artists claim to create for themselves and then hope to fi nd buyers for their work, his career is built on creating work from other people's ideas.
"The majority of my work is commission work, so I am usually doing a piece for somebody … periodically they will say 'do what you want,' but usually it is someone buying a frog with someone else in mind. It is fun for me to hear their idea and I try to execute in a way that they like. It is fun."
Cobb's first frog was inspired by Old Toad from the book Wind in the Willow.
"I read that book later in life and really liked it," said Cobb. "This idea of an old toad in a morning coat and with a watch fob intrigued me. The reaction to that first frog was so extreme that I was motivated to do a few more, and it just caught on."
His work is such a big hit with so many of his clients that Cobb often receives cards during the Christmas season with pictures of the frogs dressed up for the holidays.
Frogs from this exhibit are available for sale and can be purchased through Cape Fear Botanical Garden. The exhibit runs through Nov. 30. Admission is free for garden members. Regular admission applies for nonmembers: Adults $8, Military $7, Children 6-12 $2.50 and those under 5 are admitted free. Cape Fear Botanical Garden is located at 536 N. Eastern Blvd. in Fayetteville.